The Spirit of Harmony has volunteers across the country who give generously of their time and resources to support Music Education Advocacy.
Here are some highlights:
Gordon Bundy – Traveler Concerts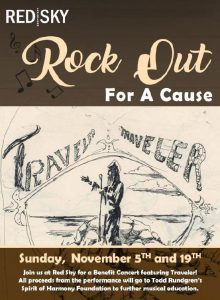 Traveler has been playing a series of free benefit performances in the Atlanta, Georgia area to support Music Education.
September 23 at the Brooke Street Park Bandstand – Alpharetta Georgia City Hall

November 5 and 19 at Red Sky Tapas & Bar in Marietta, Georgia

And future performances to be announced.
Traveler is a live performance sharing of classic rock and popular music primarily from the 1960s through the 1980s that is designed to entertain and inspire.  Not just nostalgic, but pertinent to our lives today in its message and its feeling.  Based on the idea that music at its core is inspirational and a medium that can bring us together in the shared experience of Love.
Instrument Drives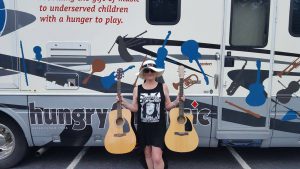 Supporters in more than 20 cities across the United States participated in our musical instrument collection in Summer 2017, and collected about 150 instruments and audio gear to be reconditioned and redistributed to children in need by Hungry For Music. For our Facebook photo album, please click here.
Some highlights:
Julie Hill (pictured to the right) of Little Rock, Arkansas, coordinated collection points at local hospitals and music stores.
Veronica Morano of Sarasota, Florida, reached out to the local Sam Ash music store to be a collection point and donor.
Marilyn Baird of Downers Grove, Illinois organized an all-day collection point at a local YMCA.
More instrument collection superstars: Eileen Clark, Karen Giocondi, Kim Harvey, Sue Pope, Joel and Vicki Owens, 

Joann Pierdomenico and Vincent James, Drew Tamaki, Jim Utopia, John Powhida, Shelley Kiger, Gordon Myers, Sheela Das, John Siegler,

 

Brenda Twito, Lois Walker, Craig Daniels, Michael Rosen, Trace Tedrick, Dana Visgari, Patricia Angelucci Bruce, Julie Dye, Wayne Mesker, Susan Perin, Tom & Sue Davidson, Mark Miller, Rosemary Mizerak Byers, Bill Chapman, 

Mark Bagley.
Joel and Vicki Owens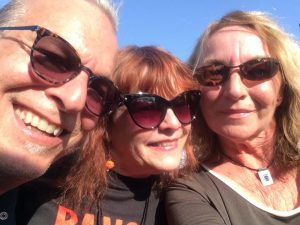 Vicki and Joel were instrumental in two QS&L Bangin' Drums events: On August 20, Todd and Michele Rundgren made a public appearance in support of the "Bangin' Drums 4 Music Education" promotion for the Spirit of Harmony Foundation in the parking lot at the Nautica Pavilion in downtown Cleveland before the YESTIVAL show. Music students from Campus International School in Cleveland performed and Hungry for Music's Big Bertha was also on hand to accept instrument donations. Also, on September 16, Vicki and Joel coordinated an event at the Quaker Steak in North Canton, Ohio. Along with great fellowship among local supporters, the afternoon featured Canton's En-rich-mentmusic program. En-Rich-Ment provides free private and group lessons to underserved urban youth ages 9 – 24. Groups participate in worthy cause parades and marathons as well as prepare for competitions. The academy teaches youth the value of teamwork and prepares them for business opportunities.
National restaurant chain Quaker Steak & Lube supported the Spirit of Harmony Foundation with its Bangin' Drums 4 Music Education promotion. SOHF supporters who live near a Quaker Steak restaurant organized meet-ups to highlight the importance of music education and shine a spotlight on Music Education programs in their communities.
Other Bangin' Drums 4 Music Education Volunteers
September 24 Quaker Steak in New Berlin, Wisconsin, coordinated by Ron Raasch. This meet-up took place in conjunction with a Green Bay Packers homegame vs. the Bengals. The Packers famously play Bang the Drum All Day after every touchdown at Lambeau Field, so it was a perfect tie-in to Bangin' Drums 4 Music Education. And the Packers did not disappoint!
September 28 Quaker Steak in Bloomsburg, Pennsylvania, coordinated by Buggsy Rock. At this very musical evening meet-up, Buggsy Rock and Friends performed live in support of music education. Zen Again, a Led Zeppelin tribute band, also performed, as well as Jonah Whale, Jack Pyers, Rob Brown, and other local musicians. What an amazing evening of wonderful talent!
October 1 Quaker Steak in Valley View, Ohio, coordinated by Wayne Mesker. A musical and sunny Sunday afternoon, featuring The Angels In Disguise & The Stone Cold Killers (Straight Outta Parma). The Valley View Quaker Steak graciously extended the Bangin' Drums 4 Music Education promotion to accommodate the October 1 date. "Dine 2 Donate" fundraising was done for our Spirit of Harmony Partner, Hungry For Music.
October 8 Quaker Steak in Westminster, Colorado, coordinated by Ed Vigdor. The restaurant generously offered to extend the September 30 end of the Bangin' Drums promotion to accommodate an October event, which will be in support of the Colorado Honor Band Association (CHBA). Colorado Honor Band Association provides high quality music education for students in the greater Denver-metropolitan area. This extra-curricular program fills a unique niche in the community with an education model that blends full-ensemble instruction, small-group training, and one-on-one coaching.