Local Fundraising Initiatives:
Calling All Todd Fans! Do you have an interest in developing an individual fundraiser for the Foundation?
As you're all aware, the Spirit of Harmony Foundation was created to respond to the needs of established music programs with innovative solutions, and as such, it belongs to all of us.
I'd like to take this opportunity to personally invite each of you–Todd's fans–to develop your own innovative solutions for an individual Foundation fundraiser. Each one of you has your own special talents, interests and abilities, and we'd love for you to step forward, become involved, and be recognized.
The concept here isn't any form of "competition," but rather a recognition of the creativity and value of every fan, working independently to further the Foundation's mission. The types of fundraisers I'm suggesting don't require a lot of time or expense. For example:
car wash
garage sale
bake sale
build or create something for online sale
golf tournament
talent show or performance
chili or spaghetti supper
… the possibilities are limited only by your imagination
I'm very excited to be your contact person for individual fan fundraising, so please take a moment to review our policies and procedures (FundraisingPolicies) for Foundation fundraising, then contact me directly with your ideas at fab4msw@sbcglobal.net.
We'll be spotlighting completed individual fan fundraisers on the SOHF website regularly, so remember to take pictures!
Thank You!
Mark Woodin
Spirit of Harmony Foundation Board of Directors
---
Record Store Day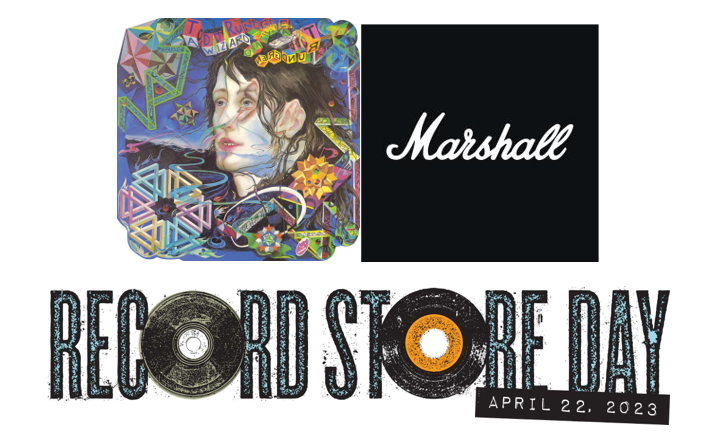 RECORD STORE DAY 2023 AND MARSHALL HEADPHONES & SPEAKERS TEAM UP TO SUPPORT TODD RUNDGREN'S SPIRIT OF HARMONY FOUNDATION AND CELEBRATE  THE 50TH ANNIVERSARY OF THE CLASSIC ALBUM, A WIZARD, a TRUE STAR
Record Store Day has worked hard over its 16 year tenure to support some of the most impactful charities and social initiatives on radar. Today,  in conjunction with Marshall Headphones & Speakers, Record Store Day announces a donation to Todd Rundgren's Spirit of Harmony Foundation, a nonprofit whose mission is to emphasize the moral imperative of music education.
Rundgren's classic album A Wizard, a True Star sees a special 50th Anniversary release on April 22 as part of Record Store Day, the celebration of independent record stores. US organizers have pledged to donate $1 per copy sold of the stunningly beautiful reissue at US record stores that weekend to the Spirit of Harmony Foundation, combined with a generous donation from Marshall Headphones & Speakers. 
For entire news release, please click here.
---
Music Benefiting SOHF and Music Education
Someone/Anyone? Tribute CD
To celebrate the 50th Anniversary of Todd Rundgren's classic double album Something/Anything?, Fernando Perdomo produced Someone/Anyone?, a 32-track re-imagination and homage of the album, featuring Kasim Sulton of Utopia, Brent Bourgeois, Marshall Crenshaw, Astral Drive, Louise Goffin, Michele Rundgren and the Intoxicats, and many more.
All net proceeds of the album are going to the Spirit of Harmony Foundation to support music education for children.
Order Here: Someone/Anyone?
From Bandcamp: "Someone/Anyone?" is the 50th Anniversary TRibute to Todd Rundgren's Classic 1972 Double Album "Something/Anything?" All 25 tracks are presented here in the same order with loving re-invented covers of the songs by a diverse group of artists who love Todd. The album will be released 02/01/2022 on the actual 50th Anniversary of the original release. All Net profits will go to Todd Rundgren's charity "Spirit Of Harmony" which advocates music in schools.
The album is the brainchild of "Echo In The Canyon" guitarist Fernando Perdomo. In 2021 he created a 50th Anniversary edition of Paul and Linda McCartney's Ram which was approved and praised by Paul himself. The same thing has happened here with Todd.
Art by Bill Bricker. Mastered by Zach Ziskin.
Cycles 
We are delighted to announce the release of Larry Friends and Family (LF&F) CD, benefiting the Spirit of Harmony. Thank you so much, LF&F and Don Neblock!
Order Here: https://larryfriendsandfamily.bandcamp.com
Larry Friends and Family (LF&F) was founded in 1970 as a folk-rock act showcasing original material and unique covers as an acoustic guitar and bass trio (originally named simply "Larry"). Powerful multipart vocals became a signature for the band as it grew audiences by bringing together classical, jazz, rock and folk elements, creating something altogether new. As the music drew numerous fans, "Larry" became "Larry Friends and Family". Addition of personnel bringing piano, keyboards and the power of up to six voices weaving together in complex multipart harmonies became the hallmark of the band.
In the early 1970's, LF&F recorded in studio their full length album of original songs entitled, "Cycles". While originally intended for production and release as a vinyl LP, the band stopped performing in 1973 and the album production was shelved. But the band's deep friendships endured and have been celebrated every year at an annual gathering with their friends and families. At one gathering in late 2006, LF&F imagined the incredible – completion and release of the album as a CD after so many years, and the 16-track tape master was restored and digitally re-mastered in 2008. The Cycles compact disc was independently released for both physical and digital distribution in March 2010.
LF&F reunited in 2009 for select live stage performances and since then has opened for Acoustic Strawbs, John Ford of Strawbs, and repeatedly drawn 70+ loyal NJ and southeastern PA fans to shows in intimate listening clubs, from which LF&F donated its share of the door to charitable organizations or the venue itself.
Now, in 2022, LF&F is currently scheduling select 50th anniversary reunion concerts, celebrating 50+ years of the band and the Cycles album. Profits from sales of the Cycles CD during the 50th anniversary celebration will be donated to Todd Rundgren's Spirit of Harmony Foundation, a non-profit national organization that advocates for music education for children, particularly in public schools.
---
Concerts and Shows
---
Todd Tribute Concert in the Boston area, POSTPONED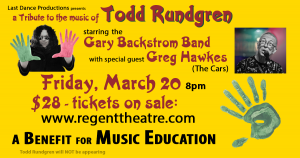 The Road To Utopia, a tribute to Todd Rundgren with The Gary Backstrom Band, featuring Greg Hawkes from The Cars. This is a Special Concert to Benefit Todd Rundgren's Spirit of Harmony Foundation and Music Education Advocacy. Please click here for tickets.
The Gary Backstrom Band is a high energy, original, innovative act featuring the infectious licks and songwriting of nationally recognized guitarist and music educator Gary Backstrom. The band's music features clever, hook-filled songwriting and arrangements with intense interaction among the musicians. The band's unique sound is exciting, unpredictable improvisation that can only be heard in the best live acts on the scene today. Gary Backstrom Band members: Gary Backstrom, Kit Holliday, Kevin Silvia, Chris Nemitz, John Vanderpool, Everett Pendleton, Peter Koeplin. 
HARRINGTON SISTERS:
Our dear friend from the University of Notre Dame, Brigid Harrington and her sister Shannon, perform regularly during breaks at a cafe in New Jersey. With tips collected for the Spirit of Harmony's music education advocacy.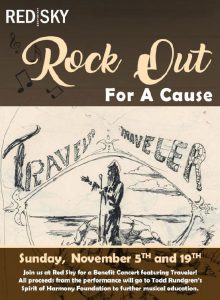 TRAVELER:
"Music is the Traveler crossing our world, meeting so many people, bridging the seas." Traveler has been doing benefit concerts for the Spirit of Harmony and local music programs several times each year for the past three years. Based in Atlanta, Georgia, Traveler concerts celebrate "Classic/Conscious Rock" and shine a bright spotlight on the importance of music education for children. Thank you, Traveler!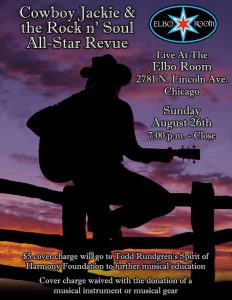 COWBOY JACK:
Many thanks for the great support of Cowboy Jackie and the Rock n' Soul All-Star Revue. Cowboy Jackie's performances at the Elbo Room in Chicago collect instruments and funds for the Spirit of Harmony, and raise awareness about the importance of music education for children. THANKS for your great advocacy work!
---
FOAMY Commemorative Print

To mark Todd Rundgren's 70th birthday year, professional photographer Ronnie Temple offered a limited edition of 70 life size prints of Todd's favorite guitar "Foamy."
Ronnie photographed Foamy using a process that was simultaneously lifelike and beautiful. For stories and photos and more information about this wonderful print, please click here.
---
Michael Morrison, Artist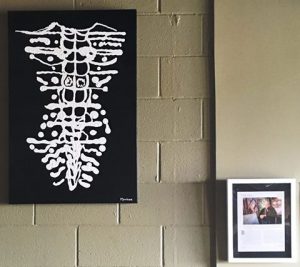 Artist and Todd fan Michael Todd Morrison has taken on an incredible project: He is creating a painting for each and every one of Todd's songs. He has named this collection the Spirit of Harmony Series, and all proceeds from artwork in this series are contributed to the Foundation.
For 37 years Raleigh-based artist Morrison has been creating acrylic works on canvas, gesso board, and other surfaces focused on landscapes and abstracts using bright colors as well as photographic works that depict his passion for travel, sustainability, the environment, horticulture, and philanthropy.  He won first place in the USDA's Art and Agriculture competition the past three years and his art was selected for 100 Raleigh-area buses as part of the Art on the Move contest.
Michael has been showing his paintings in galleries and exhibitions around the country, including the USDA Gallery in Washington, DC, Art Basel in Miami, and ArtPrize at Harmony Hall in Grand Rapids, MI, spreading the word about Music Education Advocacy.
On December 7, 2016, Michael was bestowed the Abraham Lincoln Honor Award: President's Volunteer Service Award from President Barack Obama.
His volunteer service exceeded 500 hours last year which included his volunteer efforts for several non profit foundations which included Clayton Visual Arts, Spirit of Harmony Foundation, Hearts of Color, Cancer Foundations, the USDA food drive, and many others.
---
Commemorative Gold Album
A special limited edition of an authentic commemorative Gold Record award helped raise funds and awareness for the Spirit of Harmony Foundation. Each Award was personalized with the supporter's name. Please click here for more information.
---
88+ Ways Music Can Change Your Life
Authors Vincent James and Joann Pierdomenico designated the Spirit of Harmony Foundation as one of the beneficiaries for the proceeds from the sale of this wonderful book.
88+ Ways is filled with over 150 inspirational stories & quotes from musicians, music educators and music lovers from all over the world. Included are a number of stories from Grammy winning and Platinum selling artists & composers. Recording artist and songwriting contributors include Bobby Kimball (Toto), Simon Kirke (Bad Company), Vanessa Carlton, Siedah Garrett (Michael Jackson), Rick Wakeman (Yes), Rob Parissi (Wild Cherry/Play That Funky Music), Rob Hyman & Eric Bazilian (The Hooters), Billy Steinberg (Madonna), Bill Champlin (Chicago), Mark King (Level 42), Bobby Hart (Monkees), Ciaran Gribbin (INXS), Rose Kingsley (Metropolitan Opera Singer & Ballerina) & Grammy winning Children's artist The Battersby Duo. Film and TV actresses contributing stories include Audrey Landers (Dallas), and Darcy Donavan (Anchorman, My Name is Earl). TV/Film/DVD producers & composers contributing include Fred Mollin (Friday the 13th, Hard Copy, Beyond Reality), Michel Rubini (Nemisis, The Hitchhiker, Tales from the Crypt), Jay Gruska (Cocoon-Movie, Supernatural-TV, Charmed-TV), Sara Flatow (Grey's Anatomy, Desperate Housewives, Scandal) 50% of the proceeds from all book & ebook sales will be donated to foundations providing music instruments and lessons to schools and communities in need.