Proceeds of all sales go to support the Spirit of Harmony Foundation's music education advocacy. Thank you! 
Also, We Have Online Fundraising Auctions Every Spring and Fall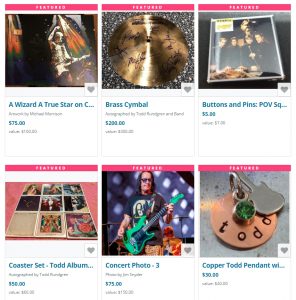 The Spirit of Harmony has online auctions of Todd-related and music-related memorabilia twice each year, in Spring and Fall. We offer unique items, collectibles, recordings, posters, and much much more, all donated to SOHF by supporters. We accept donations of auction items year-round, and welcome your contributions of large and small items, new and used, so please email us if you have something you wish to donate for a future auction.
When we have an auction, online bidding usually lasts about two weeks and when the auction is finished, items are sent to winners within a week. Here is the link to a recent auction, to give you a taste: Please click here.
Please join our email list to be sure you never miss one of our exciting auctions!