For videos and photos of TR@ND 2o18, please click here.
Artist In Residence at the University of Notre Dame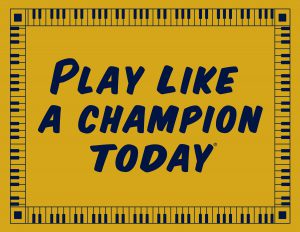 Todd Rundgren and his Spirit of Harmony Foundation visited the University of Notre Dame September 22-October 1 for Todd's Artist In Residence, hosted by the University's Department of Film, Television, and Theatre. An underlying theme of the visit was "Play Like a Champion Today," the iconic slogan closely associated with ND Athletics, and how its meaning can be expanded to include the essential nature of Music Education.
Spirit of Harmony has partnered with the non-profit Play Like A Champion Today educational initiative, whose mission is "Play Like a Champion Today provides leadership in a worldwide effort to promote an inclusive, developmentally-oriented youth sports culture. It does this primarily by educating ethically responsible sport leaders – coaches, parents, athletic administrators and athletes – who in turn will reach millions of young people. Our research-based, nonprofit initiative is unique in its focus on fostering moral and spiritual development through sports."
---
Todd's Interdisciplinary Class and Classroom Visits
---
First Time Fans – Fighting Irish vs. Duke Football Game
Notre Dame Fighting Irish vs the Duke Blue Devils, Saturday, 9/24. Todd's attendance at the game and game-related festivities will be the subject of a First Time Fans documentary that will highlight Music Education and the Spirit of Harmony Foundation. At the Pep Rally and Football Game, the Spirit of Harmony Foundation organized on-campus collection of used musical instruments by Hungry for Music, SOHF's program partner.
Media:
---
Service Project at the South Bend Center for the Homeless
In cooperation with the University of Notre Dame and the Center for the Homeless, the Spirit of Harmony Foundation established a brand-new ongoing music program for the children of the families who are guests at the Center. At a service project on Saturday, October 1, Todd fans from across the country hosted and served a luncheon for the guests of the Center and Todd distributed ukuleles to the children. Also, 24 music stands were sponsored for the Center with a donor plaque inscribed with each name.
Media:
---
Play Like a Champion Today Concert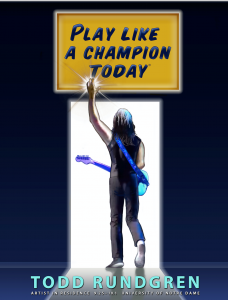 As a grand finale to the residency, Todd Rundgren performed with students for a one-of-a-kind concert at the DeBartolo Center for Performing Arts on Saturday, October 1.
The concert also featured the presentation of the Spirit of Harmony Foundation's annual Singring Award for Music Education to Notre Dame alumnus Dr. Bill Hurd, musician, athlete, philanthropist.
Media:
"Something To Fall Back On"
"The Wheel"
"One World"
"Parallel Lines"
"Love Science"

"Can We Still Be Friends"
"Hello It's Me"
"Just One Victory"
TR@ND Media Coverage
Notre Dame Media
South Bend Tribune
National Media
YouTube Channel for more Foundation videos
Also at Notre Dame that Weekend….
A class of fourth graders from Stockton, California were also attending the weekend festivities. Here is their First Time Fans documentary, and below the documentary, we've captured a spontaneous meeting with Todd.