The Board of Directors of the Spirit of Harmony Foundation established the Singring Award to recognize outstanding accomplishment in furthering music and music education.
The name comes from Singring and the Glass Guitar, a song from Utopia's 1977 RA album, which tells the mythical story of the muse Singring, the Spirit of Harmony, who is trapped in a glass guitar and only through the concerted efforts of the Brave Adventurers, can the forces of earth, wind, fire, and water be vanquished to set the spirit free.
This perpetual story of humanity: facing challenges, overcoming obstacles, and achieving great goals by working together, aptly applies to the current marginalization of music education programs, especially to underserved communities.
2016 Recipient: Dr. Bill Hurd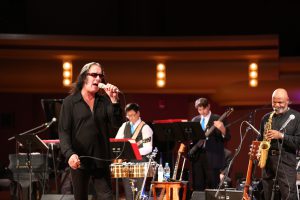 Bill Hurd has always PLAYED LIKE A CHAMPION, whether in music, sports, academics, or charitable works. To honor his accomplishments, the Spirit of Harmony Foundation presented him with the annual Singring Award at the University of Notre Dame's DeBartolo Performing Arts Center on October 1, 2016. The spirit of the "Play Like a Champion Today" theme was interwoven throughout Todd's visit to explore the youth development benefits of both athletics and music.
Hurd graduated from the University of Notre Dame in 1969 with a degree (with honors) in electrical engineering. He entered ND in 1965 as one of only 12 African American freshmen. He was a world-class sprinter, and set the American record for the 300-yard dash (29.8 seconds) and had five All-America finishes at the 1968 and 1969 NCAA Championship meets. As an undergraduate, he was also a standout jazz saxophonist who was named "most promising sax" at the Collegiate Jazz Festival. After ND, he added graduate degrees from M.I.T. (master's in management science) and Meaharry Medical School in Nashville, and was a Rhodes Scholarship regional finalist. He holds two U.S./foreign patents for optical devices, including a slit-lamp, mountable intraocular biometer.
Dr. Hurd is an accomplished jazz musician, and is currently completing work on his fourth CD, in which he plays the saxophone and flute. Now a practicing ophthalmologist, Dr. Hurd annually travels to such places as Madagascar, Mexico and Kenya, where he performs pro bono eye surgeries for hundreds. "Most of these people [have] never seen a doctor before, let alone an eye surgeon," says Hurd, who is authoring an autobiography tentatively titled Memphis to Madagascar.
Notre Dame has given Hurd numerous honors, including the Moose Krause Award in 2002, and the Alumni Association's 1992 Harvey Foster Award in recognition of distinguished civic activity. The NCAA also bestowed its prestigious Silver Anniversary Award upon him in 1994 and he remains one of the university's most decorated student-athletes, more than three decades since his graduation.
2015 Recipient: The Honorable William Jefferson Clinton
President Clinton has been an impassioned and effective lifelong advocate for music education. Not only is he a musician himself, but throughout his presidency worked to give visibility to the importance of the arts in children's education.
In 1994, fought for the inclusion of strong, supportive language about the importance of arts education in the Goals 2000: Educate America Act and the reauthorization of the Elementary and Secondary Education Act;
In 1995, created the Arts Education Partnership, a coalition of over 120 non-profit arts and education organizations to promote research and advocacy and give valuable information to parents and educators about the positive effects of arts education;
As part of the new 21st Century Community Learning Program, encouraged after-school programs to involve students in arts activities – over the last four years, this program has increased from $1 million to $450 million;
In 1998, reinstated the arts in the National Assessment of Educational Progress and found that instruction in the arts, including music, improved student performance; and
Under the First Lady's leadership, released two important reports by the President's Committee on the Arts and Humanities highlighting successful in-school and out-of-school programs for students in the arts.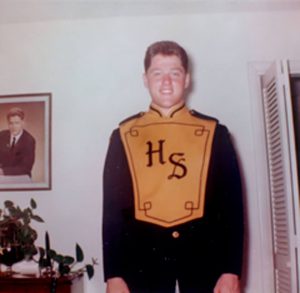 Bill Clinton, 42nd President of the United States, whose life's tale embodies the undeniable benefits of music education.
"I don't think I would have become President if it hadn't been for school music." -President Bill Clinton
Please click here for an entry in the Clinton Presidential Library online archive.