SOHF Hits The Road With The Individualist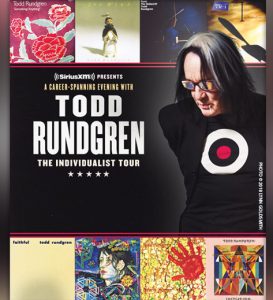 The Spirit of Harmony is spreading the message of music Education Advocacy far and wide. We are delighted to have Information Tables at stops across the country to promote music education advocacy, especially at the grassroots level.
Here is your chance to ask Todd a question! The Spirit of Harmony Foundation is assisting with the Q&A aspect of Todd's Individualist concerts. An iPad is set up near the SOHF table prior to each show, so attendees can record a short question. You have only 15 seconds to record a question, so prepare it in advance. Selected questions will be played back and answered by Todd onstage during the course of the concert. Don't miss this opportunity!
Please stop by to record your question for Todd, say hello to the SOHF Team staffing the tables, pick up your The Individualist bookmark, and find out about local music education programs in each city of the tour. Please click here for our SOHF Individualist photo album on Facebook.
We are still compiling our volunteer roster for Leg 2 of the Tour, May 27 through June 27. Please email jean@spiritofharmony.org ASAP if you'd like to be a member of the SOHF Volunteer Team at any of the shows (please note that everyone purchases their own tickets). We welcome your participation at our info tables!
Leg 2 of the Tour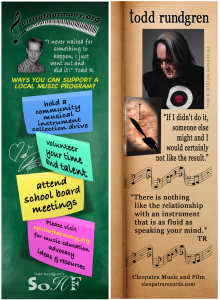 Portland, Or – Revolution Hall, May 27
SOHF Team: Pamela Leek, Karen Pauley, Jennifer Zika
Boulder, CO – Boulder Theater, May 30
SOHF Team: Kathy and Brett Derwin, Kim and Tim Miner
Lawrence, KS – Liberty Hall, June 1
SOHF Team: SOHF Board member Mark Woodin, Lizzy Goldstein, Kevin Price, Cris Senseman
Iowa City, IA – Englert Theater, June 2
SOHF Team: Lizzy Goldstein, JoLynne Counter, Sara Stromseth-Troy
Burnsville, MN – Ames Center, June 3
SOHF Team: Richard and Kyle Shallbetter, Carol Kramer, Drew Blackstrand
Cincinnati, OH – Taft Theater, June 5
SOHF Team: Melissa and Brayden Wilson, Elle Crash, Chuck and Deb Wiggins, Ellen Redden, Deron Newman
Marietta, OH – People's Bank, June 6
SOHF Team: Melissa and Brayden Wilson, Donna Lynn, Bonnie Diver, Susie Barbour, Deron Newman
New Buffalo, MI – Silver Creek Center, June 7
SOHF Team: SOHF Board Member Jim Lachowicz and Executive Director Jean Lachowicz, Major and Vicki Norman, Blaine Cressman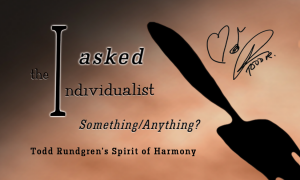 Great Barrington, MA – Mahaiwe PAC, June 9
SOHF Team: Dave Cornelio, Mark Galeo, Ronda Abrahamson, Michelle Dubois Cuivas, Holly Christine Cadwallader, Deb Christian, Alyssa Kenny
Ridgefield, CT – Ridgefield Playhouse, June 11
SOHF Team: Dave Cornelio, Joann Kassoff, Ken Michaels, Holly Christine Cadwallader, Leslie Marie
North Tonawanda, NY – Riviera Theater, June 12
SOHF Team: Mary (MK) Dugan, Randy Atlas, Thom Jennings, Steve Fazakas
Jim Thorpe, PA – Penn's Peak, June 14
SOHF Team: Kelly Port, Lisa Cornwell-McCausland, Lynell Wilcha, Darlene Fiedler
Greensberg, PA – Palace Theater, June 15
SOHF Team: Lynn Stys, Deb Tobin Wyler, Scott Wyler, Joyce Harrison
Charlotte, NC – Fillmore Theater, June 17
SOHF Team: Dode Prickett, Tina Snyder Gills, Wanda Taylor
Richmond, VA – The National Theater, June 18
SOHF Team: Cynthia Gray, Jerry Caldwell
St Petersburg, FL – Mahaffery Theater, June 20
SOHF Team: Veronica Morano, Laura Walker Wood Covell, Dayna Hughes, Kelley Annette
Orlando, FL – The Plaza Theater, June 21
SOHF Team: Veronica Morano, Dayna Hughes, Jen Westbrook, Keith Kaufman, Yvonne Raley
Dallas, TX – House of Blues, June 23
SOHF Team: Steve and Lisa Hartenstein, Becky Bilyeu, Thom Kuhns, Marie Clinton Bruno, Gio Bruno, Leslie and Richard Van Buren, Jonathan and Amelia Broom
Austin, TX – Emos Theater, June 24
SOHF Team: Steve and Lisa Hartenstein, Becky Bilyeu, Anna Dominguez Pittala, Lizzy Goldstein, Jimmy Somma, Leslie and Richard Van Buren
Phoenix, AZ – Celebrity Theater, June 26
SOHF Team: Daniel and Cherry Blue, Kimberly Kyle, Chris Ryan, Nora Kelly, Stefan Wilde, Mary Decarlo
Folsom, CA – Harris Center, June 27
SOHF Team: SOHF Chairman Ed Vigdor, Michael Redmond
Yountville, CA – Napa Valley Performing Arts Center – Lincoln Theater, June 28
SOHF Team: SOHF Chairman Ed Vigdor, Michael Redmond, Bruce Whetstone, Kim Harvey
Leg 1 of the Tour
Amsterdam, Paradiso
April 3 – SOHF Team: Michael Redmond, Beverley Rigby, Jacqueline Diesel
London, Apollo Hammersmith
April 6 – SOHF Team: Michael Redmond, Ronnie Temple
Atlanta, GA – Buckhead Theater
April 10 – SOHF Team: SOHF Board member Bill Chapman, Veronica Morano, Dayna Hughes, Gordon and Virginia Bundy
April 11 – SOHF Team: SOHF Board member Bill Chapman, Veronica Morano, Dayna Hughes, Gordon and Virginia Bundy
Arlington, VA – State Theater
April 13 – SOHF Team: Mike Bender, Rebecca Lavash, Lee and Stephanie Siegel, Joe Griesler, Mary France Roeser. Featured local music education program: Music For Life
April 14 – SOHF Team: Mike Bender, Rebecca Lavash, Lee and Stephanie Siegel, Joe Griesler, Mary France Roeser. Featured local music education program: Music For Life
New York, NY – Town Hall
April 16 – SOHF Team: Dave Cornelio, Stephanie Del Valle, Janice Marie, Patricia Leinani Stanton. Featured local music education program: Kaufman Music Center Face the Music
April 17 – SOHF Team: Dave Cornelio, Stephanie Del Valle, Gwen Sciora, Janice Marie, Patricia Leinani Stanton. Featured local music education program: Harmony Program
Boston, MA – Berklee Performance Center
April 19 – SOHF Team: Dave Cornelio, Grady Moates, SOHF Executive Director Jean Lachowicz, and SOHF Board member Jim Lachowicz. Featured local music education program: Berklee City Music
April 20 – SOHF Team: Dave Cornelio, Grady Moates, SOHF Executive Director Jean Lachowicz, and SOHF Board member Jim Lachowicz. Featured local music education program: Berklee City Music
Chicago, IL – Athenaeum Theater
April 23 – SOHF Team:  SOHF Board member Jim Lachowicz, SOHF Board member Michael Baird, Sara Stromseth-Troy, Ari Shagal, Kyle and Richard Shallbetter, Samantha Burrito, SOHF Executive Director Jean Lachowicz. Featured local music education program: The People's Music School
April 24 – SOHF Team: SOHF Board member Jim Lachowicz, SOHF Board member Michael Baird, Sara Stromseth-Troy, Ari Shagal, Kyle and Richard Shallbetter, Samantha Burrito, Ron Raasch, SOHF Executive Director Jean Lachowicz. Featured local music education program: VanderCook College of Music One City
Toronto, ON Canada – Danforth Music Hall
April 27 – SOHF Team: Steve Fazakas, Hersh Forman, Lizzy Goldstein. Featured local music education program: Music Counts
April 28 – SOHF Team: Steve Fazakas, Hersh Forman, Lizzy Goldstein. Featured local music education program: Music Counts
Philadelphia, PA – The Fillmore Philadelphia
May 1 – SOHF Team: Kelly Port, Jim McBride, Lynell Wilcha, Jim Donato, Chris Delucia. Featured local music education program: Keep Music Alive
May 2 – SOHF Team: Kelly Port, Lynell Wilcha, Debra McManus, Chris Ryan. Featured local music education program: Keep Music Alive
Cleveland, OH – Ohio Theater at Playhouse Square
May 5 – SOHF Team: SOHF Board member Joel Owens, Vicki Owens, Drew Tamaki, Bruce Whetstone, Tina Snyder Gills, Kay Gibson. Featured local music education program: Creative Concepts in Music
May 6 – SOHF Team: SOHF Board member Joel Owens, Vicki Owens, Deb and John Markarian, Tina Snyder Gills, Kay Gibson. Featured local music education program: EN-RICH-MENT
Los Angeles, CA – The Wiltern
May 9 – SOHF Team: SOHF Chairman Ed Vigdor, Diane Butler, Stephen Ross, Sandra Simpkins, Steve Rood, Patty Matwey. Featured local music education program: GALA Music Program
May 10 – SOHF Team: SOHF Chairman Ed Vigdor, Diane Butler, Stephen Ross, Sandra Simpkins, Chris Ryan, Michael Redmond. Featured local music education program: RockSTAR
San Francisco, CA – Palace Of The Fine Arts
May 12 – SOHF Team: SOHF Chairman Ed Vigdor,  Don MacGillvray, Kim and Tim Miner, Michael Redmond. Featured local music education program: San Francisco Conservatory of Music Bridge to Arts and Music
May 13 – SOHF Team: SOHF Chairman Ed Vigdor,  Don MacGillvray, Kathy and Brett Derwin, Martin Rios. Featured local music education program: Blue Bear School of Music
Tokyo, Japan – Sumida Triphony Hall
May 22 – SOHF Team: Yoshino Takeuchi, Sawako Hunter (on-stage translation of audience questions and Todd's answers), Kevin and Mavis Stoker, SOHF Chairman Ed Vigdor
Osaka, Japan – NHK Osaka Hall
May 23 – SOHF Team: Yoshino Takeuchi, Sawako Hunter (on-stage translation of audience questions and Todd's answers), Kavin and Mavis Stoker, SOHF Chairman Ed Vigdor
---
---