Celebrating Music Education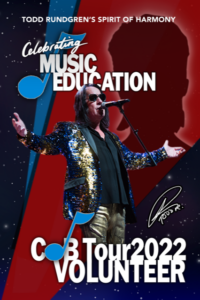 The Spirit of Harmony Foundation will be joining the 2022 Celebrating David Bowie (CdB) tour to Celebrate Music Education and promote Music Education Advocacy. Volunteers will be at all shows to provide music fans the opportunity to learn about the Foundation's grassroots work and how they can get involved in their own communities.
Stop by the SOHF table and pick up some goodies, take a selfie with our Celebrating Music Education banners, and enter to win a Celebrating Music Education banner autographed by the band! And of course, to say hello to our intrepid SOHF volunteers!
Featured CdB artists Scrote and former Bowie bandleader Adrian Belew have been singing and playing Bowie music together in 17 countries on 5 continents since 2017. They team up again for an exciting Fall tour which also features Todd Rundgren, Fishbone's Angelo Moore, Spacehog's Royston Langdon, and more.
News Release – August 1, 2022 here.
The Spirit of Harmony is compiling our volunteer roster for October 6 through November 13. Pease email jean@spiritofharmony.org or ed@spiritofharmony.org ASAP if you'd like to be a member of the SOHF Volunteer Team at any of the shows (please note that everyone purchases their own tickets to the shows).
We welcome your participation at our info tables! It's Big Fun to interact with the fans before the show and during intermission, and we promise that volunteering will not cause you to miss even a minute of the shows.