SOHF Hits the Road This Winter/Spring!
The Spirit of Harmony is spreading the message of music Education Advocacy far and wide. We are delighted to have Information Tables at stops across the country to promote music education advocacy, especially at the grassroots level. Please stop by to say hello to the volunteers staffing the tables, and maybe pick up a little SOHF swag!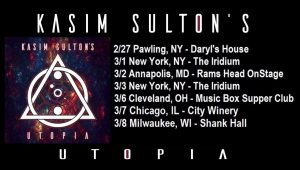 February 27-March 8:
Kasim Sulton's Utopia Tour
BAND LINE-UP: Kasim Sulton – Bass and vocals, Jesse Gress – Guitar and vocals, Gil Assayas – Keyboards and vocals, Andy Ascolese – Drums and vocals.
For details and tickets, please click here. SOHF will be represented at most of the Kasim Sulton's Utopia shows, and local youth music programs will be guests at most shows as well.
March 17:
ETHEL & Face The Music with special guest Todd Rundgren
Special guest appearance by Todd Rundgren. NYC's "infectiously visceral" (Pitchfork), "vital and brilliant" (New Yorker) string quartet ETHEL teams up with quartets from Kaufman Music Center's dynamic Face the Music youth program for an afternoon of invigorating new music. The performance showcases repertoire commissioned for ETHEL and developed during the quartet's 2018-19 residency with Face the Music at Kaufman Music Center. For tickets, please click here.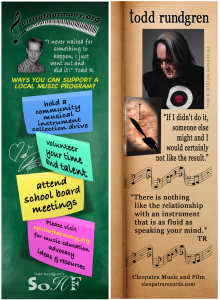 April 10-May 13:
Todd Rundgren's Individualist Tour
Todd Rundgren will be embarking on the world's first hybrid concert/book tour this spring, highlighting both his hits as well as "deep tracks" spanning his 50-year career.
Produced by Live Nation and presented by SiriusXM, the North American leg of the tour starts in Atlanta, GA and hits major markets before wrapping in San Francisco, CA. The North American dates will be preceded by dates in Europe/UK and followed by dates in Japan. Full itinerary here.
Rundgren's long-awaited autobiography, The Individualist: digressions, dreams and dissertations, was released by Cleopatra Press on December 21, documenting his life through his 50th birthday. The concert set list will mirror that time period, consisting of song selections from the inception of his musical career through 1996, with intros & stories behind the songs and Rundgren's impressive career.
At the Spirit of Harmony Information Table in each city on The Individualist Tour, you will be able to meet representatives of local music programs for youth and learn more about their work and discover local volunteer opportunities.
---
A Weekend of Harmony for Music Education – RECAP

Featured Video:
For past Featured Videos please click on the links below.
FRIDAY 9/7/18: Todd Rundgren's Play Like A Champion Concert: Students Play the '80s
University of Notre Dame, South Bend, Indiana
SATURDAY 9/8/18: Todd Rundgren and the Chicago Sinfonietta 
Chicago House of Blues
SUNDAY 9/9/18: Performance of the INTOXICATS, Tiki/Rock Dance Party and Musical Instrument Drive
Martyrs', 3855 N. Lincoln Avenue, Chicago
---
Mega-Partnerships
It is very exciting for the Spirit of Harmony to have an opportunity to partner with a wide variety of organizations and individuals to advocate for music education. Here are some great examples:
September 7-9 Big Weekend – The Foundation's BIG WEEKEND (please see above) brought together an amazing confluence of partnerships and relationships. Throughout the weekend, we had the help of a team of volunteers from Southwest Airlines "Team SWA" and countless others. For the Play Like A Champion Today concert, there were several important partners at the University of Notre Dame, particularly ND's Department of Film, Theatre, and Television. The Benefit Concert brought together support from Live Nation, the Chicago House of Blues, Alchemedia Productions, Rich Daniels, Chicago Federation of Musicians, and Panacea Entertainment, and three local music programs: Intonation Music, The People's Music School, and the VanderCook College of Music One City Program. The Intoxicats concert/Instrument Drive was a great success thanks to the amazing Intoxicats, Chuck Wiggins, Martyrs, Hungry for Music and D'Addario Foundation, and of course all of the supporters who brought instruments! 
December 13 in Sheboygan, Wisconsin – In conjunction with Todd's performance at the Stefanie H. Weill Center for the Performing Arts in Sheboygan, Wisconsin, the Spirit of Harmony Foundation and Hungry For Music partnered with Cascio Music, the Sheboygan Community Education Foundation, the Kiwanis Club of Greater Sheboygan, the Weill Center to collect new and used musical instruments for children in need. For news coverage, please click here. For our Facebook photo album, please click here.
December 1 in Chicago, Illinois – As a joint project of the Spirit of Harmony Foundation, D'Addario Foundation, Hungry for Music, Chicago Federation of Musicians, Ace Hotel Chicago, and Instruments In The Cloud, with entertainment by the great Fernando Jones, we collected musical instruments at the Ace Hotel at 311 N. Morgan Street on Friday, December 1 from 4-7 p.m. For our Facebook photo album, please click here.
November 2 in Long Island, New York – We've also had a wonderful Mega-Partnership event at D'Addario & Company. D'Addario Foundation, Hungry For Music, Instruments in the Cloud, and Lyft joined the Spirit of Harmony in collecting nearly 100 instruments!
---
 "Music In A Word" Blog – Recent Posts