Todd Rundgren's Play Like A Champion Concert: Students Play the '80s at the University of Notre Dame, South Bend, Indiana, September 7. 
Concert by Todd Rundgren, backed by his full band and with appearances by Notre Dame student musicians.
Movie!
Videos of individual songs:
Set Me Free
Bye Bye Love
Just What I Needed
Chance For Us
My Best Friend's Girl
Drive
That Could Have Been Me
Prime Time
Pretending to Care
No World Order
Love in Disguise
Hello It's Me
Dream Goes On Forever
Bang The Drum All Day
Paradise By The Dashboard Light
Love Is The Answer

And More To Come!
Photographs: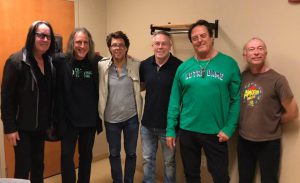 Media:
Set List:
#1-SET ME FREE, ALVARO DEL CAMPO, (PATRICK KOLLMAN- Sax)
#2-BYE BYE LOVE, KAY BONTEMPO, ZACH LAWSON
#3- JUST WHAT I NEEDED, FELIX RABITO, KAY BONTEMPO
#4-I DON'T WANNA TIE U DOWN, FELIX RABITO
#5-CHANCE FOR US-JAY HERRANS, (Saxophone PATRICK KOLLMAN), (backup singers TEAGAN EARLY, RONNIE MANSOUR, SYDNEY KRAFT)
#6- MY BEST FRIEND'S GIRL, THE ECHOES acapella group
#7- DRIVE, THE ECHOES acapella group
#8-THAT COULD HAVE BEEN ME, TEAGAN EARLY
#9-PRIME TIME, RONNIE MANSOUR
#10-PRETENDING TO CARE, ALEX MANSOUR,RONNIE MANSOUR
#11- NO WORLD ORDER, BREE CONNOR
#12-LOVE IN DISGUISE, TEAGAN EARLY, (Alex Mansour-piano,Ronnie Mansour, cello)
#13- HELLO, IT'S ME, (PATRICK KOLLMAN- SAX), backup singers TEAGAN EARLY, RONNIE MANSOUR, SYDNEY KRAFT)
#14- DREAM GOES ON FOREVER, BRIGID HARRINGTON
#15- BORA BORA, ND MARCHING BAND DRUMLINE (Joey Warner, Drum Major)
#16- BANG THE DRUM, MITCH OLINGER, JUSTIN CHENG
#17-PARADISE BY THE DASHBOARD LIGHT, Students from the Film, Television, & Theatre Musical Theatre Program, lead vocals: SAVANNA MORGAN, MARIO SIMONE, Other Members: KEVIN HAUGER, JAY HERRANS, SYDNEY KRAFT, RONNIE MANSOUR, TEAGAN EARLY, Piano-Alex Mansour, FTT Musical Theatre Students
#18-LOVE IS THE ANSWER, ALEX MANSOUR (piano)
For videos and photos of TR@ND 2o16, please click here.