First appearing as a dream and then a limited edition book, the project has continued in its evolution to finally become fully realized: "The Magistris Project" CD has arrived…!
Available NOW! All profits from the sale of this CD benefit the Spirit of Harmony Foundation. Please note, if purchasing multiple copies to the same address, you will be refunded any excess postage/shipping costs on your order. We will offer quantity discounts for large orders– please contact us. 
---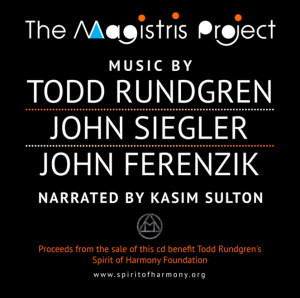 Using both words and music to covey its story, "The Magistris Project" album features three classic songs by Todd Rundgren, three previously unreleased songs by John Siegler, and three songs by John Ferenzik, as well as narration provided by Kasim Sulton.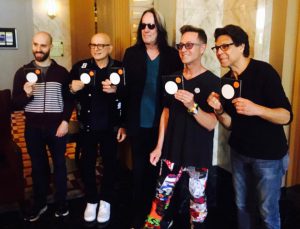 The CD package includes full color insert and two "Magistris Project" stickers. CD running time is 36:46. 
Note from John Siegler: "Thank you Mark for honoring me by including my music in a wonderful project that also contains music written by my dear friend, colleague, mentor, and future Rock & Roll Hall of Fame member Todd Rundgren. Nothing could please me more!!! Not to mention John Ferenzik's smoking tracks and of course the Voice of G.. himself Kasim Sulton!!!!"
Note from Ralph Schuckett: "At long last I was able to listen to the album and it sounds great. A variety of evocative moods and melodies with some insane guitar solos. Good Luck with the Project!" 
Media Coverage:
---
Special Offer:
Purchase the Toddstock movie together with The Magistris Project and save on shipping costs:
| | |
| --- | --- |
| | Please select your geographic location below, and then click "Buy Now" to place your order. |
---
The Magistris Project Merch
---