Commemorative Print of Foamy
THIS WAS AVAILABLE ONLY UNTIL NOVEMBER 30, 2019.
To mark Todd Rundgren's 70th birthday year the Spirit of Harmony is offering for sale a limited edition of 70 life size prints of Todd's favourite guitar "Foamy", on C-Type Fuji Crystal Archive Gloss 246gsm paper.
Each print is made and shipped unframed in a cardboard tube by fine art print lab The Printspace (theprintspace.co.uk) in London and is accompanied by a certificate of authenticity from The Printspace and a certificate of authenticity signed by Todd and numbered.
To quote the lab: "Silver based Digital C-types are real photographic prints, created on light sensitive paper using a finely balanced red, green & blue light source. This creates an analogue style print from a digital file with unparalleled depth, subtlety of tonal variation and shadow detail."
Notes from Ronnie Temple, the photographer of this piece
Technical:
This one's for the photographers. Foamy is 39.2 inches long by 12.9 inches at its widest point so to make a life size print of it at 300 dots per inch requires an image 45.5 Megapixels in size. The aspect ratio of the print is 2.57:1 but the aspect ratio of medium format camera backs tend to be 5 x 4, ie 1.25:1, so to photograph Foamy with a single shot I would have needed a camera with at a sensor of least 94 MP, but sadly I don't have one of these, so instead I used one with a 22 MP sensor and took multiple shots with a 90mm tilt-shift lens, keeping the camera body in the same position on the tripod but moving the lens up, down, left and right to capture all of the guitar without introducing distortion through changes in perspective. I composited these shots in Photoshop to produce the final image. The result is an accurate reproduction of Todd's most faithful guitar, at least until its next scratch.
Story of where and how the photo was taken: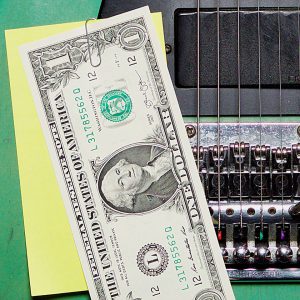 The photo was taken at the Sedalia Center during Toddstock in Virginia, June 2018. I'm sure that Todd didn't know anything about this until he was asked to sign the certificates of authenticity in Chicago in September. [Note from Jean: Actually, Todd definitely DID know about the project and thought it was very cool that Ronnie took a "glam shot" of Foamy.] Michele knew all about the project from way before Toddstock VA. She allowed me to borrow Foamy from Todd's roadie Cody for an hour to take the photographs. And luckily my camera equipment hadn't melted in my tent.
There was still a lot of daylight streaming in through the windows at 6pm but I wanted to control the light so I rigged up a black drape to block out as much of it as possible, then set Foamy on a guitar stand on the floor, with a new white sheet behind it to make cutting it out easier, and another piece of black drape on the floor to minimize unwanted reflections.
I set a Canon 5D Mk III 20 inches up (half of Foamy's length) on a tripod and tilted it forward so that the sensor was parallel with Foamy. If I'd had more space in my case I would have taken a laptop to shoot this tethered so that I could check focus, amongst other things, but instead I used paperclips and Post-It notes to stick Dollar bills to Foamy and focused on them. I locked the mirror up and set the self timer to 2 seconds, to minimize camera shake. I set the shutter speed at 1/125 and the lens aperture at f/8 (the sweetest spot for the Canon TS-E 90mm f/2.8).
I used a trigger on the camera to fire a Speedlite with a diffuser in a 70cm soft box and moved this around by hand while taking multiple shots because Foamy is very shiny and reflected the flash back into the camera. I would have preferred to use the native ISO of 160 but had to increase this to 400, mainly because I didn't want to set the Speedlite to more than 1/8 full power for a relatively short recycle time. (There's still no noticeable noise in the files.) I used an X-Rite ColorChecker Passport to ensure that the white balance was correct.
When I got home I selected the best shots and used Photoshop to composite them into the final image for the print lab, but that's another story …
Videos Starring Foamy
These videos are not about the Foamy Commemorative Photo, but they are simply too cool to not include on this Foamy page: