The Spirit of Harmony has volunteers across the country who give generously of their time and resources to support Music Education Advocacy.
Supporter Spotlight: Dave Kinder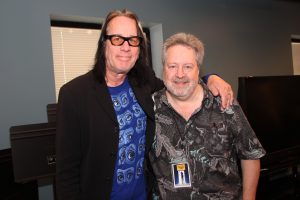 The Spirit of Harmony Foundation's inaugural Supporter Spotlight showcases Dave Kinder, who utilizes his over 50 years of expertise in printing to provide the foundation with promotional materials, business cards, and banners.
Those who attended Todd Rundgren's recent 'White Knight' tour had great fun taking selfie photos with life-size 'Sir Todd' stand-ups, courtesy of Dave. They helped raise awareness of the foundation and its mission by posting their selfies on the Spirit of Harmony Foundation's social media sites. They also texted to receive exclusive behind-the-scenes tour footage, and entered a prize drawing.
Dave shares the story of how he came to know the Spirit of Harmony Foundation, and how he uses his professional expertise and resources to benefit the foundation's promotional efforts:
I remember vividly the first time (Spirit of Harmony Foundation Board Chairman) Ed Vigdor called me to tell me about the new vision that Todd had for helping children to obtain and learn to play musical instruments. When Ed told me the name, The Spirit of Harmony Foundation, I immediately got the reference it made to a Utopia song from the 1970s, titled 'Singring and the Glass Guitar', one of my favorite compositions.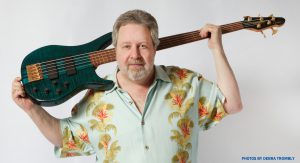 It was, I thought, a great metaphor for what they were intending to do, to free children from failing school band programs. I knew instantly that I wanted to be a part of this cause, not just because I liked the music of its founder, but also because I knew how important music was in the forming of my own character. Hence, a child getting his first instrument, especially if it can't come from school or family, is a precious gift indeed.
It all starts with, first, your desire to play an instrument. That can come at any age. More important is when you actually acquire an instrument. It can be like learning another language and helps to develop a child's character.
When I was asked to join other organizations in the past that I did printing for, my answer was always, 'Sorry, I don't have the time or inclination.' That is until I found out about The Spirit of Harmony. I knew instantly I wanted to be a part in it.
TO TODDSTOCK, OR NOT TO TODDSTOCK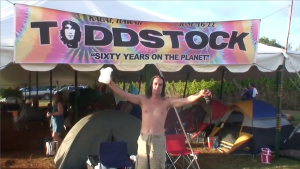 Ed and I met at the original Toddstock, along with roughly 300 other hard-core Todd Rundgren fans. That event, in 2008, celebrated Todd's 60th birthday and was held at his residence on the island of Kauai, Hawaii.
I called my good friend Bill Godby, who lived and worked on the big island Hawaii as an archaeologist, and when I presented him the idea of both of us going to Toddstock, he seemed just as excited as I was to do so. When Bill wasn't helping to protect native Hawaiian archaeological sites on one of the big islands' volcanoes, he also loved playing the guitar and listening to Todd's music. Presently, Bill presides over the 2 million acres known as White Sands Missile Range and is involved with the preservation of all of the ancient sites there.
So away Bill and I went, and soon we found ourselves making the journey to Todd's house, and what I found to be his version of 'Paradise.'
In my own way, I wanted to do something special for the event.  Michele (Rundgren) had told me there wasn't any kind of banner yet, so I thought that might be a nice birthday gift. I designed one measuring 3' by 15' across, and Michele liked the design and said it was a go.
When I got there it was already up in the air, and when I introduced myself to Michele the first day, she threw her arms around me while whispering in my ear, 'Your banner set the tone for the whole event'.  I was speechless and quite exhausted after a 12-hour trip. Attending Toddstock had a way of changing my life, much for the better, and brought me to a place where I could contribute to Todd's plan.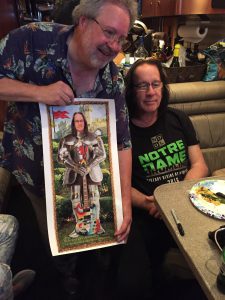 2017 SOHF RECAP
This year presented an amazing opportunity for me when the SOHF asked if I could help with raising  awareness by creating two life-size stand-ups for Todd Rundgren's White Knight: The Chivalrock Tour that featured 'Sir Todd' in a full suit of armor, and made to look like a 500-year-old painting.
They stood up in the lobbies of where Todd performed the White Knight Tour and fans would take their "selfies" with Sir Todd and send them to the Spirit of Harmony Foundation's social media sites. It was great fun and was a large part of my summer, both designing and producing.
I HAVE BEEN SELF-EMPLOYED AS A PRINTER/MUSICIAN FOR OVER 50 YEARS
At Toddstock, Ed learned that I owned and operated a commercial printing company in Burton, Michigan, near Flint, and we developed a friendship over the years that found us working on many different projects together, mostly Todd related.
When the SOHF needed things like business cards, flyers, banners, and whatever to promote Todd's vision, I was happy to provide such things.
To be giving back in some small way to SOHF is the most satisfying feeling I have ever had, besides finding my life partner and wife, Judy. She has found a way to understand this strange passion that I have, and supports me in all things.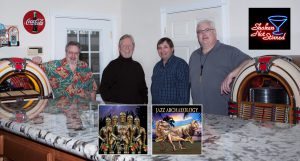 My life was influenced by what I consider to be three very important things: Learning to play an instrument, learning to read music, and turning it into a profession. I feel a deep affection for the Spirit of Harmony Foundation and what it represents:  A good deed. Thanks for that gift as well, SOHF: A year to remember.
A PROMISE OF SUPPORT TO A MOST WORTHY CAUSE
As long as I am so capable, and as long as they let me, I will cherish being a part of such a great organization as SOHF and I promise them to help in any way I can.
I feel like I have finally found a home for my own creativity and abilities; A Utopian City if you will. One day, I hope I get to meet them all. My door is always open. I tell people all of the time, 'It is a wonderful thing to be needed, and a greater privilege to be appreciated.' They give that feeling to me.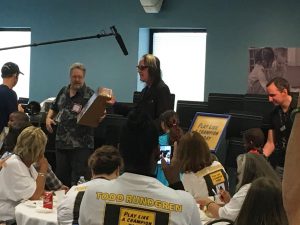 However, the most important thing about The Spirit of Harmony to me is that are trying to compensate for what used to come to children naturally, as part of the school systems, and has been taken away in most smaller school districts. The life lesson you learn while growing up and playing a musical instrument with friends has nearly vanished. For that cause, I will help in any way possible. I had more fun as a kid playing an instrument and although I have no children, in this way I kind of do.
I look forward to what the future holds for children and for the SOHF. If you know someone who is not using an old instrument, please recycle it and help us in this great cause.
– Edited by Sara Stromseth-Troy