Braille version of Todd Rundgren's book 'The Individualist' presented to the Library of Congress
Longtime Rundgren fan Julie Dye's daughter Chelsea, who is blind, transcribes book into braille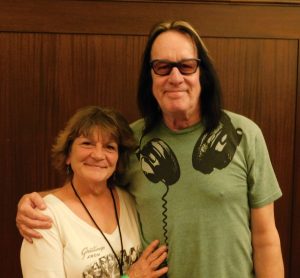 Longtime Todd Rundgren fan Julie Dye didn't know what to expect when she handed the musician a braille copy of his memoir, 'The Individualist', transcribed by her blind daughter, Chelsea, at a Meet and Greet session last May.
She and Chelsea were in for a surprise of a lifetime when they were recently invited to Washington, D.C., where Todd presented the book to the Librarian of Congress.
Todd Rundgren's official Facebook page posted an announcement of the event as follows:
Longtime fan Julie Dye attended the May 6 show in Cleveland and presented Todd with a braille version of Todd's book that Chelsea, her daughter who is blind, had made by hand.

As the White Album tour was ending in Washington DC, Todd wanted to present the book to the Library of Congress (specifically the National Library Service For The Blind And Disabled division).

A presentation at the Librarian of Congress Ceremonial Office was held this morning. We contacted Julie and invited her and Chelsea to come to Washington to attend the DC concert last night and the ceremony this morning.
Julie Dye has been a Todd Rundgren fan since 1972, and when he released his techno-style album 'Global' in 2015, Julie had a feeling the music would resonate with her daughter. "Chelsea really became a fan of the Global tour; I took her to that show because I knew she would like that music so that's what did it for her. That was the first time she met Todd. Rex (Rundgren, Todd's son) took her backstage to meet him."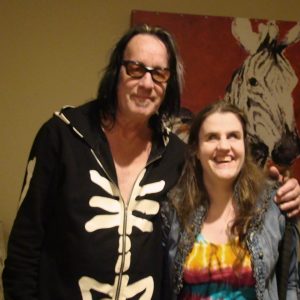 After listening to the 'Global' album Chelsea's verdict was, 'This is my kind of music'. She also appreciates Todd Rundgren's non-conformist attitude which she discovered more fully after reading his 2018 memoir, 'The Individualist.' "Beyond the music, I respect his philosophy on life. Don't do what everyone else does," Chelsea said.
"Don't conform. Do your own thing. That's what I took from reading 'The Individualist.' This is exactly what I want to do in my life. He's the guy you want to ask questions about music production because that is what he does. Also, his lyrical messages are so relevant now. He talks about love and about helping each other."
Chelsea decided she wanted to transcribe 'The Individualist' into braille. Blind since birth, she says she is fortunate to have had an excellent experience in Massachusetts schools and was able to absorb a wide-ranging education, including music, which she learned in braille. "The school system was second to none. For music, I decided on the clarinet because it physically looked relatively straightforward. I had to learn braille. In print, there is a staff, measures, and clefs but we can't represent that in braille because braille is not set up the same way as print is. Braille has six dots in one group, so you have a limited number of dots you can have for one symbol. You sometimes have to do multiple symbols to mean one thing or another in music. For my music, it was broken down by notes; one symbol a whole note, one symbol meant a half note. It got really complicated the further along I got and that was just for the clarinet. If you are talking about a piano, the braille gets even more complicated, because you are dealing with two hands and pedals."
Chelsea said she was fortunate to have a teacher who was also a musician and helped her through her years as a band student: "I had a gentleman who is a teacher of the visually impaired who also just happened to have a music background. He knew all of the technical stuff that I had no idea about. He taught me the basics about what a sharp and a flat was, lengths of notes, so I was working from the ground up. He was really good at trying to make sense for me. It just got to the point where the braille was more complicated. I wish I could have learned music by ear, but they wanted me to learn the braille (in school)."
Chelsea considered a career path as a DJ or in music production, and said, "I like a lot of the newer electronic music and am fascinated by that and I thought it would be really cool how to produce that type of music. When I started to listen to the more modern electronic music and Todd's music, too, I'd hear a sound effect and wonder 'How did they do that?' or 'Why is that guitar on that side of the mix?' and 'Who decided to put that drum over there?' For a brief time, I thought I was going to be a DJ or produce music, but the lessons I took became cost-prohibitive and moved out of the area."
Chelsea decided on a different career path as a braille transcriptionist. "I have been certified as a braille transcriber for about a year-and-a-half now," Chelsea said. "Todd Rundgren's book was my first big project and my mom was my first client." Chelsea's business is Read the World Braille Services and she can be contacted at readtheworld81@gmail.com.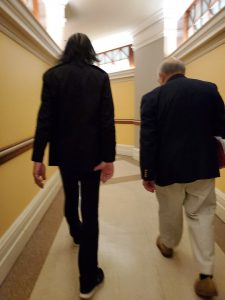 Julie said, "I ordered The Individualist' and Chelsea happened to be there the day it showed up in the mail. I knew she was working on a business with braille transcription, so I wanted to be her first customer. I didn't even read the book but gave it to her right away, so she started telling me about the book. I paid for her to do the braille book."
Julie continued, "In order to teach it or do braille transcription for a living, you have to become certified. Chelsea has been reading and writing braille all of her life. It was a long process, but she did it and became certified. I was her first customer and give her some money to help her out and get things going."
Chelsea describes the process of transcribing a print book into braille: "It took me a couple of weeks to transcribe the book. I had the hardcover copy of the book from my mom, but hardcover books tend to be harder to scan because they are so rigid and don't move that much. I told her that I didn't know what kind of shape this book would be in when I returned it to her. The book would have to be bent open since it is kind of wide to scan."
Chelsea continued, "I have what's called a flatbed scanner, I have software on my computer where you press a key and it scans. When it scans it takes the picture and converts it to text on the screen. The computer speaks it out loud and I have a device that shows me in braille what the scan is, so I can see it in braille before I emboss it into braille. I get a sneak peek on what it's going to look like. If I need to make any spelling changes, I have the opportunity to fix it before I get to the translation part of it. Sometimes I had to re-scan some of the pages. The print quality was really good and there weren't many errors." (Chelsea says the errors to which she refers are not typographical mistakes in the book but rather errors that will come up in the scanning process).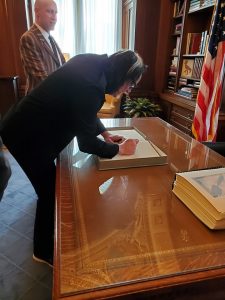 "Sometimes the pictures it takes won't catch everything the right way. Sometimes an 'i' will turn into an 'l' and sometimes an 'h' will turn into two 'l's. The technology has gotten much better, though."
"After I scanned the book and proofread it, I used another program to format and translate into braille and then emboss it (print the book in braille). The machine that does it is a braille embosser or braille printer. Everything is hooked together as one system for me. The Braille printer prints one page at a time. Once it was all done, I had to punch holes in the sides for a binder and I put binding and covers on it. Braille is a lot bigger than print and takes up a lot of room." she said.
Julie took Chelsea's braille copy of 'The Individualist' to Todd Rundgren's tour last spring. During the Meet and Greet session, she presented it to him. "I handed it to him when he was sitting at the table and for the first time ever, I saw him speechless. He looked at us and back at the book he said, 'Wow'.
For her part, Chelsea figured that perhaps her braille book would end up at Todd Rundgren's home in Hawaii, an interesting conversation piece for family and friends. Little did she know that, months later, she and her mother would be a part of a special ceremony at the Library of Congress that would ensure her braille book's availability for other blind or print-disabled people to enjoy.
"I had no idea that showing Todd the book would lead to me going to Washington, D.C.," Chelsea said. "I had no idea this would reach the height of the Library of Congress."
Julie said, "I got a phone call from Eric (Gardner, Todd's manager) describing that they wanted to do this ceremony with the Librarian of Congress. Chelsea is very actively involved in the National Braille Institute, which is involved with the Library of Congress, so she was over the moon about doing this. She couldn't wait to get there, to check things out and find out where all of her braille materials from school had come from."
Chelsea said, " I found out Friday and left on Sunday, came back Monday night. It was a little bit of a whirlwind." Mary Lou Arnold, who made the travel arrangements, said "Many thanks to Skye Mark, our travel agent at Starflight Travel, who jumped in with me on Friday evening and helped me get their flights and hotel booked in time for them to fly on Sunday morning!"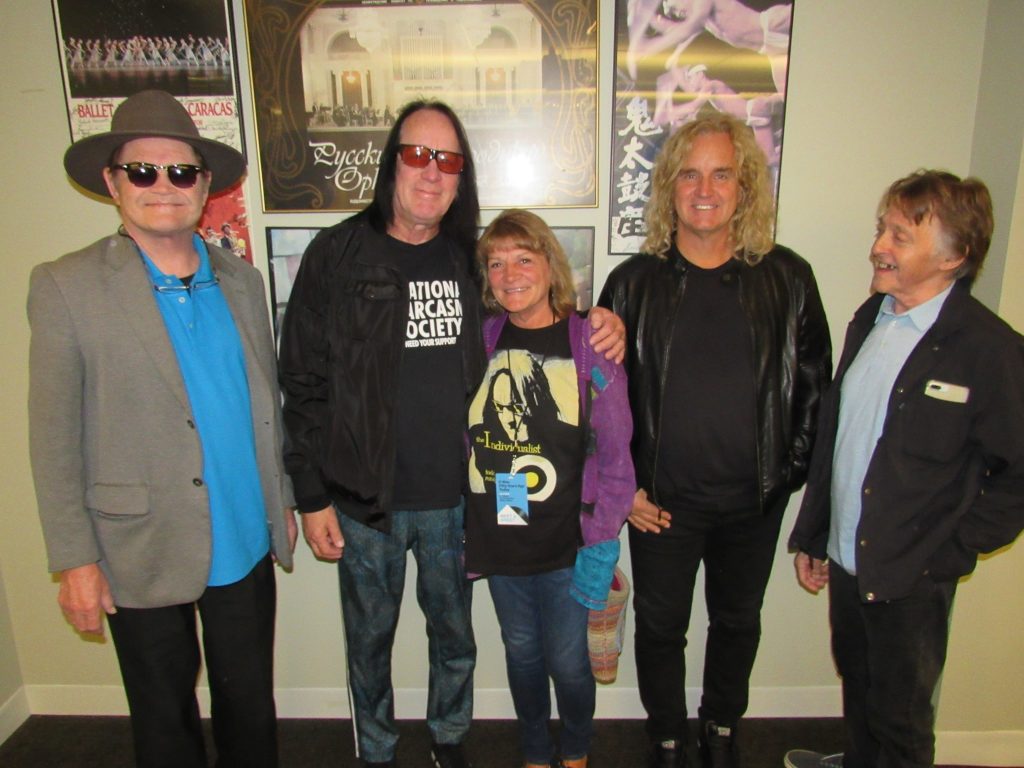 They attended the 'It Was 50 Years Ago Today: A Tribute to the Beatles' White Album' concert, which included Todd Rundgren and a variety of other well-known musicians. Chelsea recalls a light-hearted moment she shared backstage with Jason Scheff, the former lead singer of the band Chicago: "We went to the show Sunday night and I got to go backstage and see Todd and I also got to meet Jason Scheff," Chelsea said. "Back in the 1980s, Chicago did a song called 'Look Away' and I thought I would sing the chorus to him. I don't know why I did it. He walked up to me, gave me a hug and asked how I was doing. I asked him if he could do me a favor and I started to sing the chorus of 'Look Away' and he sang it with me."
The next morning, Julie and Chelsea attended the ceremony with the Librarian of Congress in recognition of Chelsea's achievement of transcribing a braille version of Todd Rundgren's book, 'The Individualist.' "When we got there, we met the actual Librarian of Congress, which was really amazing because she is also blind," Chelsea said. "I got to meet her seeing-eye dog. She is the lady who signed my certificate that made me a certified braille transcriber and I thought it was great to meet her and thank her in person."
Chelsea continued, " We got to go to the ceremonial office where she has her desk and we got to stand behind her desk and get a picture taken. They gave the book to the library. Todd autographed it and he thought it was so amazing that his book will be given to a wider audience that might not have had access to it before. After the book was officially given to them, the Librarian of Congress began reading it in braille.
"After the ceremony, we got to walk through the Jefferson Building. I got to feel some really amazing marble carvings that had been done in the 1800s and it felt brand new to me. They are amazing columns and designs; someone took a lot of time, effort and skill to make the carvings. We went to the main reading room in the library and there was a big, open room and a domed ceiling. All of these statues along the edge of the dome were looking down into the room and each represented different aspects of knowledge and justice. Some statues were male and the statues that represented learning, knowledge, and wisdom were female statues, which made me think of Todd's song, 'Earth Mother.'"
Chelsea said, " I got to sit at a desk where someone would get a book to read. The desk itself was angled down and had a glass top. There were books everywhere. I didn't actually get to feel all of the shelves, but I could imagine stacks and stacks of shelves of books. It would be my dream to work at a place like that, where I could pick and choose braille books."
Chelsea said the braille transcription of 'The Individualist' is now at the Library of Congress in different formats. "The Library of Congress has a physical book and a digital copy. Now that the digital copy is available, that means anyone who is a member of the National Library Service Program, which is what I'm a member of, can get the book and download it as a digital braille book. They can also make another physical book from the digital copy if they want to."
Julie is also overwhelmed by the experience of visiting the Librarian of Congress but recalls an amusing anecdote while watching Chelsea interact with Todd: "They are like two peas in a pod; both techy. Chelsea was reading Todd's book in braille and he was just mesmerized by that and it was on a machine, not a physical book. When we got back to the hotel, Chelsea said, 'I got to rub elbows with Todd, literally', because they were crammed in the taxi together."
The enormity of the whole experience still has an emotional impact on Julie. "It still makes me cry," Julie said, "It was an overwhelming experience. Thanks to Todd, we were able to have this experience, but just knowing what the whole process meant to Chelsea is why we did it. I can't believe that it even happened for her; I couldn't love that man any more than I already did, but that was a done deal. He's got a beautiful heart and I just want to give him another hug and tell him 'Thank you.'"
Jean Lachowicz, Spirit of Harmony Executive Director, commented, "Julie has been a supporter of Todd's foundation from the very beginning, and she embodies our mission of grassroots music education advocacy by making sure Chelsea had a solid foundation of music in her life. Thanks to this beautiful effort of translating Todd's book into braille, his reflections of a lifetime in music will inspire many readers who otherwise would not have access to the book."
Chelsea is looking forward to continuing her Braille transcription business as well as enjoying a hobby, karate. "People sometimes like assumptions about what blind people can and cannot do, but I'd like to try to smash some of those assumptions."
About the National Library Service:
From the National Library Service website:
"National Library Service (NLS) is a free braille and talking book library service for people with temporary or permanent low vision, blindness, or a physical disability that prevents them from reading or holding the printed page. Through a national network of cooperating libraries, NLS circulates books and magazines in braille or audio formats, delivered by postage-free mail or instantly downloadable.
About the Library of Congress:
From the Library of Congress website:
The Library of Congress occupies three buildings on Capitol Hill. The Thomas Jefferson Building (1897) is the original separate Library of Congress building. (The Library began in 1800 inside the U.S. Capitol.) The John Adams Building was built in 1938 and the James Madison Memorial Building was completed in 1981. Other facilities include the High-Density Storage Facility (2002) at Fort Meade, MD., and the Packard Campus for Audio Visual Conservation (2007) in Culpeper, VA.
Today's Library of Congress is an unparalleled world resource. The collection of more than 168 million items includes more than 39 million cataloged books and other print materials in 470 languages; more than 72 million manuscripts; the largest rare book collection in North America; and the world's largest collection of legal materials, films, maps, sheet music and sound recordings.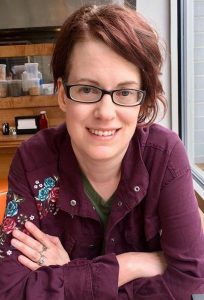 By Sara Stromseth-Troy,
SOHF Social Media Volunteer
Official Photos from the Library of Congress