Volunteer Spotlight: Veronica Morano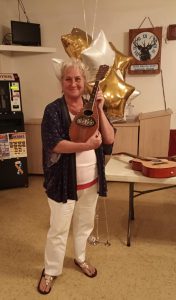 Veronica Morano of Sarasota, Florida, is a familiar face to many in the Todd Rundgren fan community for the volunteer work she does with his music education organization, The Spirit of Harmony Foundation.
From organizing used instrument drives to planning hotel discounts for fans eager to attend events, Veronica continues to be inspired by the foundation's mission, advocating for the moral imperative of music education for youth beginning at the earliest age possible.
"I first heard about the Spirit of Harmony through one of the Todd Rundgren websites on Facebook," Veronica said. "It was just before the very first Spirit of Harmony special event was going to happen in Little Rock, Arkansas in April of 2015. I normally go see Todd shows in my area but since this particular "Global" release was being accompanied by the Spirit of Harmony event, I was especially keen on making the trip knowing that it was all about the importance of music education."
Veronica created a special guitar strap for Todd Rundgren as a memento. Her story is published in the Spirit of Harmony Foundation's blog, 'Music in a Word', titled, 'A Gift for a Minstrel': That story is available by clicking here.
Following the symposium, Veronica said she was inspired to do more.
"I came home and decided that I was going to start doing musical instrument drives here at home and putting the word out about the foundation," she said.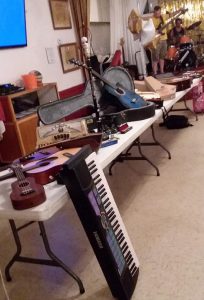 Veronica went to work in spreading the word about the Spirit of Harmony Foundation in Sarasota, Florida:
"The first instrument drive I organized was done at the local Sam Ash Music store in Sarasota in conjunction with Hungry for Music. Since then, I've hosted two more, each about a year apart and they have grown each time. The most recent instrument drive and fund raiser was done this past February along with my colleagues Joie Miller, Bob Anthony and Dayna Hughes. This was a beautiful day with about 75 people coming to the Elks Lodge who allowed us to have our event there in Seminole. It was an afternoon of great fun, live music entertainment and above all else, three long tables covered in all kinds of instruments including violins, electric and acoustic guitars, keyboards, drums and more. Jeff Campbell of Hungry for Music came along with his 'Vanna White' (instrument drive van) to collect the instruments at the end of the day and delivered them to a local group that has an outreach for the needy music community to be sure the instruments landed in the right places for the children who are underserved."
Meanwhile, Veronica's career experience in booking groups for large corporate events became an asset for Spirit of Harmony Foundation supporters seeking a cost-effective way to attend events in cities throughout the United States.
"As far as hotel planning goes, I began booking group hotel rooms solely with the intention of helping everyone be able to make going out of town to a show more affordable," she said. "Another reason why I began booking hotel rooms, is because we (fans) all like to stick together during the events, have fun together outside of the main events and this makes it easier to plan gatherings. I work for an international company FHTglobal. Our main focus is booking groups for large corporate events, mostly medical meetings. I decided it would be beneficial to take advantage of our business partners to obtain group room blocks for some of our concert events. The first time I booked rooms was for the January Night of Harmony II event in New York City knowing that our friends would need a good hotel near the venue, but at a better rate than what an individual could book on their own. Since then, Spirit of Harmony Foundation has asked me to continue helping in this way, which I am more than honored to do."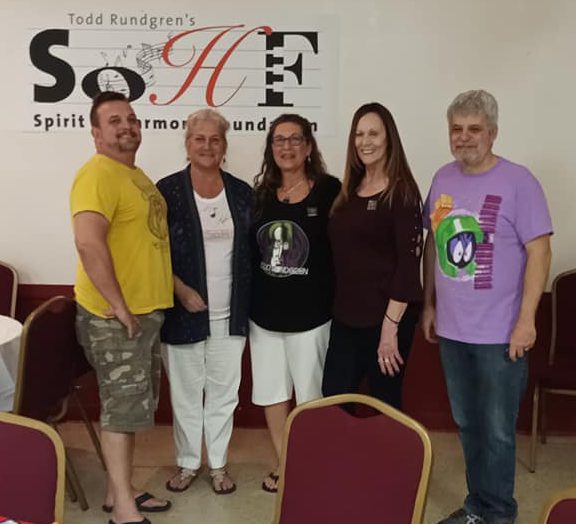 While Veronica finds every Spirit of Harmony Foundation event special, she has a particularly fond memory of the foundation's fifth anniversary celebration and 'Big Weekend' of events in September 2018 in Chicago.
"It was the largest SOHF event that I have been involved with from the planning stages which included the hotel rooms (in two hotels) a bus to and from the University of Notre Dame and an Architectural Boat tour. It was great to be able to assist the guests and also be available to help Ed and Jean with troubleshooting a few logistics during the weekend. I want to mention also, the volunteers from Southwest Airlines that came to help us. They were very important with helping the guests on the bus trip and manning the Spirit of Harmony table at Martyrs, where Intoxicats had their first show. The whole weekend was simply magical."
Currently, Veronica is looking forward to volunteering with Spirit of Harmony Foundation in Atlanta, Georgia, April 10-11.
"I will be assisting with the Spirit of Harmony Foundation table. In fact, the foundation will have a presence at all of the upcoming Todd Rundgren 'Individualist' shows and will also be taking care of helping the guests record a question to Todd, as there will be a Q&A during every show. It will be our job to assist in that regard prior to the show, which should be very interesting and fun. I encourage anyone who wants to be involved in this to send a message to (Spirit of Harmony Foundation Board Chairman) Ed Vigdor or (Spirit of Harmony Foundation Executive Director) Jean Lachowicz as help is always needed. The hours at the table will absolutely not interfere with the Meet & Greet or seeing the entire show from the beginning."
Veronica is happy to encourage other Todd Rundgren fans who want to support his foundation to consider volunteering.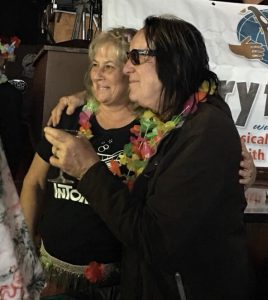 "If you are considering doing an instrument drive, make it fun. Don't stress out about how many people will donate or attend your event. It matters not whether one, two or 10 or 50 people come. Decide on a venue whether it's your home, a local record store or club and if you are lucky enough to have some volunteers who want to help you, all the better as more information will reach more people. Plan a date about two months or more, ahead of time. Pass out flyers and cards. Make an event page on Facebook and put a local ad in Craiglist that you are accepting instrument donations." (For more about instrument drives, please click here)
She continues, "If you don't have the time or energy to do a formal event, word of mouth and simply sending out the SOHF website link to your friends and colleagues can make a huge difference. Also, the SOHF has a list of items to assist you in beginning your volunteering mission, you can take a look through via the SOHF website at: www.spiritofharmony.org. Jean and Ed are always available to answer any of your questions as well."
Veronica feels her volunteering efforts are a way to give to others:
"If anyone has a passion, if you can volunteer to pass that passion onto others, it is a most rewarding and valuable experience," she said. "Volunteering is a gift you give, without expecting anything in return. What I receive in return is that warmhearted feeling that I have done something important that will help someone out there who is needy. This is most humbling to me."
Quoting one of Rundgren's most enduring songs, Veronica concludes, "Love, after all, is the answer."