Joel and Vicki Owens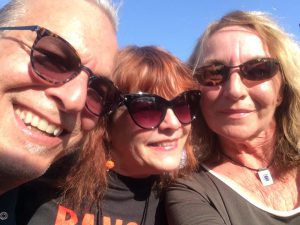 Vicki and Joel were instrumental in two QS&L Bangin' Drums events: On August 20, Todd and Michele Rundgren made a public appearance in support of the "Bangin' Drums 4 Music Education" promotion for the Spirit of Harmony Foundation in the parking lot at the Nautica Pavilion in downtown Cleveland before the YESTIVAL show. Music students from Campus International School in Cleveland performed and Hungry for Music's Big Bertha was also on hand to accept instrument donations. Also, on September 16, Vicki and Joel coordinated an event at the Quaker Steak in North Canton, Ohio. Along with great fellowship among local supporters, the afternoon featured Canton's En-rich-ment music program. En-Rich-Ment provides free private and group lessons to underserved urban youth ages 9 – 24. Groups participate in worthy cause parades and marathons as well as prepare for competitions. The academy teaches youth the value of teamwork and prepares them for business opportunities.
National restaurant chain Quaker Steak & Lube supported the Spirit of Harmony Foundation with its Bangin' Drums 4 Music Education promotion. SOHF supporters who live near a Quaker Steak restaurant organized meet-ups to highlight the importance of music education and shine a spotlight on Music Education programs in their communities.
Other Bangin' Drums 4 Music Education Volunteers
September 24 Quaker Steak in New Berlin, Wisconsin, coordinated by Ron Raasch. This meet-up took place in conjunction with a Green Bay Packers homegame vs. the Bengals. The Packers famously play Bang the Drum All Day after every touchdown at Lambeau Field, so it was a perfect tie-in to Bangin' Drums 4 Music Education. And the Packers did not disappoint!
September 28 Quaker Steak in Bloomsburg, Pennsylvania, coordinated by Buggsy Rock. At this very musical evening meet-up, Buggsy Rock and Friends performed live in support of music education. Zen Again, a Led Zeppelin tribute band, also performed, as well as Jonah Whale, Jack Pyers, Rob Brown, and other local musicians. What an amazing evening of wonderful talent!
October 1 Quaker Steak in Valley View, Ohio, coordinated by Wayne Mesker. A musical and sunny Sunday afternoon, featuring The Angels In Disguise & The Stone Cold Killers (Straight Outta Parma). The Valley View Quaker Steak graciously extended the Bangin' Drums 4 Music Education promotion to accommodate the October 1 date. "Dine 2 Donate" fundraising was done for our Spirit of Harmony Partner, Hungry For Music.
October 8 Quaker Steak in Westminster, Colorado, coordinated by Ed Vigdor. The restaurant generously offered to extend the September 30 end of the Bangin' Drums promotion to accommodate an October event, which will be in support of the Colorado Honor Band Association (CHBA). Colorado Honor Band Association provides high quality music education for students in the greater Denver-metropolitan area. This extra-curricular program fills a unique niche in the community with an education model that blends full-ensemble instruction, small-group training, and one-on-one coaching.