Sara Stromseth Troy – Social Media Maven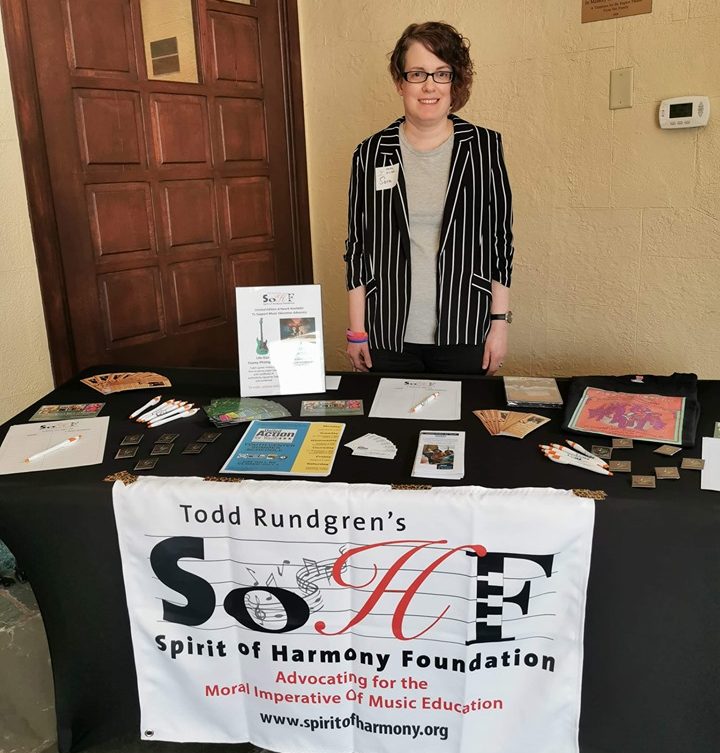 If you are connected with the Spirit of Harmony Foundation on social media, our email list, or if you've spent time on our website, you have already "met" Sara Stromseth Troy, at least in a virtual sense.
Since 2015, Sara has been an important part of the Spirit of Harmony team, writing feature articles, most recently 'Volunteer Spotlight' profiles. Since Sara is usually the writer of the Spotlights, we've taken this opportunity to switch roles and shine the spotlight on her for a change!
Sara also assists with the Spirit of Harmony's social media postings on Facebook and Twitter, edits the eblasts, and she serves as a member of the foundation's Advisory Board. She helps staff SOHF information tables when she attends shows in Minneapolis, Chicago, or Iowa City.
When Todd met Sara for the first time, he dubbed her our "Social Media Maven."
The Beginning
Sara recounts that her volunteering with SOHF began at the same time she became a Todd Rundgren fan. "In 2014, I happened upon a YouTube video from 'Live from Daryl's House' of Daryl Hall and Todd Rundgren singing 'Can We Still Be Friends.' I was not familiar with this song and had only heard Todd's name in passing over the years. So, I decided to give it a listen. I was immediately drawn to the lyrics and Todd's emotional vocal delivery of the song (and I was also amazed at how the two vocalists sounded similar; later, I discovered their common Philadelphia roots). I instantly became transfixed and decided Todd Rundgren was my newest artist obsession. I consequently watched video after video, trying to absorb 50 years' worth of music I had missed. I was amazed at the diversity of genres he covered, his production career and also the depth of his lyrics; he speaks to the human condition. My favorite songs of his are Philly-soul inspired but I also love his thrilling guitar solos. It wasn't long before Todd Rundgren became my favorite musician."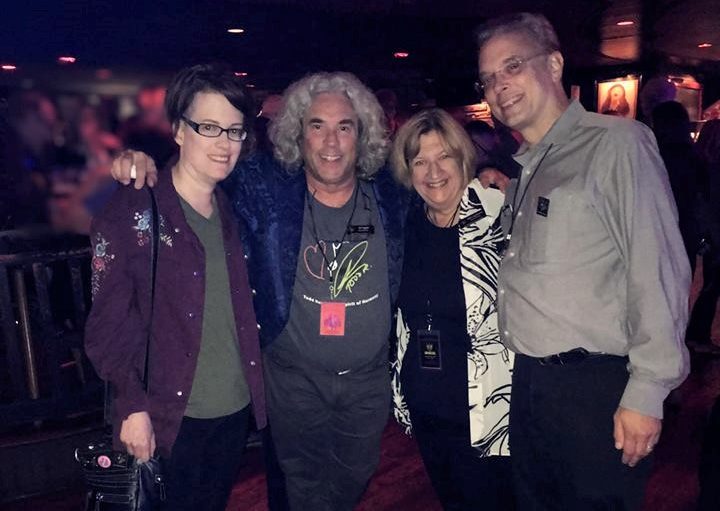 At around the same time, Sara became aware of the Todd online fandom and joined a number of Facebook groups. "One day, I saw that a fledgling organization called Spirit of Harmony Foundation was seeking social media and article writing volunteers. I thought, 'Hey, I know how to do that!' and e-mailed examples of my newspaper work as well as publicity pieces I had created for Cresco Public Library."
"As a very new and young fan of Todd (most of the fandom is around my parents' age), I felt a bit intimidated jumping into the fray so quickly, but I really wanted to be involved with this new foundation that emphasized the importance of music education that happened to be created by my favorite musician."
Mark Cohen, who at that time was a member of the SOHF Board of Directors, contacted Sara and set up a conference call with Ed and Jean. "During that first conference call, I felt a kinship with both of them as well as the SOHF's mission. I wrote my first feature story for SOHF in 2015."


SOHF Community and Friendships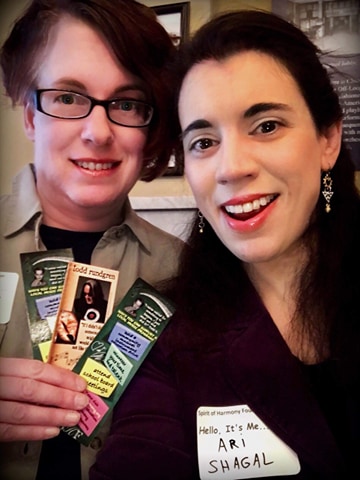 Sara says, "When I became involved with the Spirit of Harmony Foundation, I was hopeful friendships would develop but since I live in a rather isolated area in Iowa, I didn't know if or when I could attend events in person. My first event was TR@ND in 2016. A fellow member of the fandom and Facebook friend, Ari Shagal, reached out to me and asked if we might room together at the event. I was excited to discover another fan close to my own age and agreed. Our friendship transitioned from online to in-person easily. Since then, we try to meet for Spirit of Harmony Foundation events in Chicago. Meanwhile, my husband and my father have both been good sports about attending Minneapolis and Iowa City concerts with me.
"I have come to know many other members of the fandom through both online and in-person events. I have had the opportunity to meet Todd and Michele a few times. Everyone has been friendly and wonderful, and it feels like one big family.  Today as much as ever, I feel we need to heed the empathy and unity behind Todd Rundgren songs such as 'Love is the Answer'. I feel the friendships I am developing within the fandom are certainly a testament to that Utopian value system. Jean and Ed exemplify that at the helm of SOHF and I consider them treasured friends.
"My friendship with Ari bloomed while a SOHF volunteer. As she is a musician and composer herself, getting to know her has allowed me to see how a musician influenced by Todd has crafted her own original material that she wrote for her band, The Summarily Dismissed. She also created a video series on YouTube called 'Todd Rundgren, Genius Composer', where she breaks down the music theory aspects of what makes Todd's music sophisticated in an accessible way. A Todd Rundgren Jazz Project is a future goal. While I am not a musician myself, I am always interested in learning something new from those who choose to make music their career of choice. As a writer, I feel a kinship with other creative arts professionals and enjoy learning about how they work."
Sara enjoys volunteering and getting the opportunity to attend SOHF events and Todd Rundgren concerts in person and helping staff the SOHF information table at Todd shows gives her an opportunity to talk with other fans about the foundation and its mission. "At the shows themselves, I always feel a thrill at hearing so many of these wonderful songs in a live setting. To quote a Todd Rundgren lyric, being involved in SOHF and seeing Todd perform his music exemplifies 'Love in Action' to me."
Closer to home in rural Iowa, Sara says that she occasionally gets into conversations with people about being a Todd Rundgren fan and about volunteering for his Spirit of Harmony Foundation. She finds that people who might only have a passing familiarity with Todd or his music are often quite interested in learning more about a foundation that advocates for music education for children. She points them in the direction of the website and Facebook page. "I am proud that my favorite musician is creating this avenue for children to experience the beauty and magic of music from the youngest age possible."
Sweet Memory: TR@ND 2016
"I have enjoyed all of my volunteer experiences with SOHF but the one that stands out in my mind is Todd's TR@ND Artist in Residence event at the University of Notre Dame in 2016, where he also helped launch a music education program for children at the South Bend Center for the Homeless. We fans were invited to go to the center and help with some chores there and enjoy a community lunch. After that, Todd personally distributed ukuleles to the young children at the center. It was so heartwarming to see these children receive their musical instruments, knowing that each of them now had the opportunity to connect with music on a personal level. It is a great legacy for an artist of Todd's stature to pass along to younger generations," recounts Sara.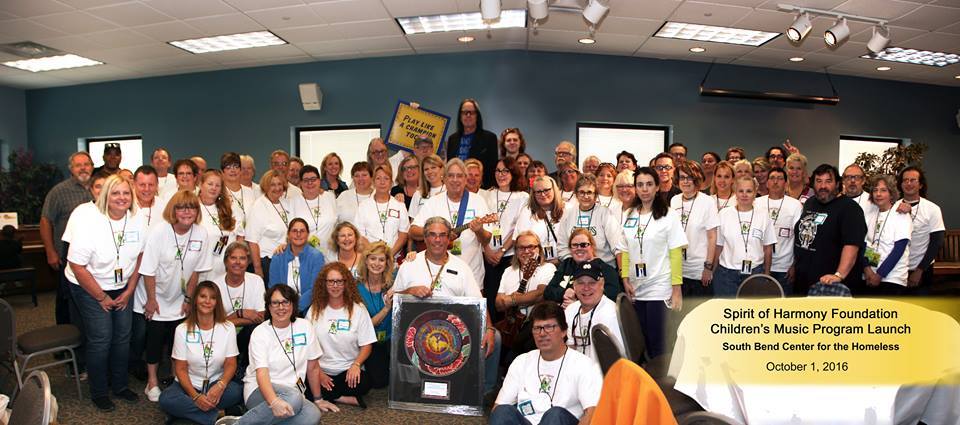 Commitment to Music Education 
Sara's background is rich in music appreciation and the benefits of music education. "I was fortunate to grow up in a family where music education was valued. My maternal grandparents were longtime public school music teachers in Dixon, Illinois. My great-aunt was a high school vocal music teacher in Hinsdale, Illinois and my aunt taught high school music and then elementary music in Yorkville, Illinois. My uncle is a trumpet player in the Chicagoland area. My cousin is a music therapist based in Montgomery, Illinois."

"My mother jokes that the 'L'Heureux family music gene' passed her by, but she has been a loyal member of the First United Methodist Church Choir in Decorah, Iowa for over 40 years and has a deep love of classical music. My sister sings in the praise band at her church. Even though my sister and I attended a small school (about 400 students in grades K-12; all housed in one building out in the country) we had a good music program there and participated in band and chorus.
"However, there are many children who grow up in a family environment where music is not a part of their learning experience or schools where music education is underfunded or non-existent. All too often, the arts are among the first casualties of school district budget cuts. We now know through studies that music education provides so many benefits to young children that last throughout their lives, even if they don't choose music as a career path.  As the earliest ages, children given the gift of a music education develop listening skills, math skills, confidence, creativity, teamwork abilities, better hand-eye coordination, and problem-solving abilities, to name a few benefits. These are skills they can use throughout their lives in whatever career path they choose. Speaking personally, I feel life is just better when music is a part of it."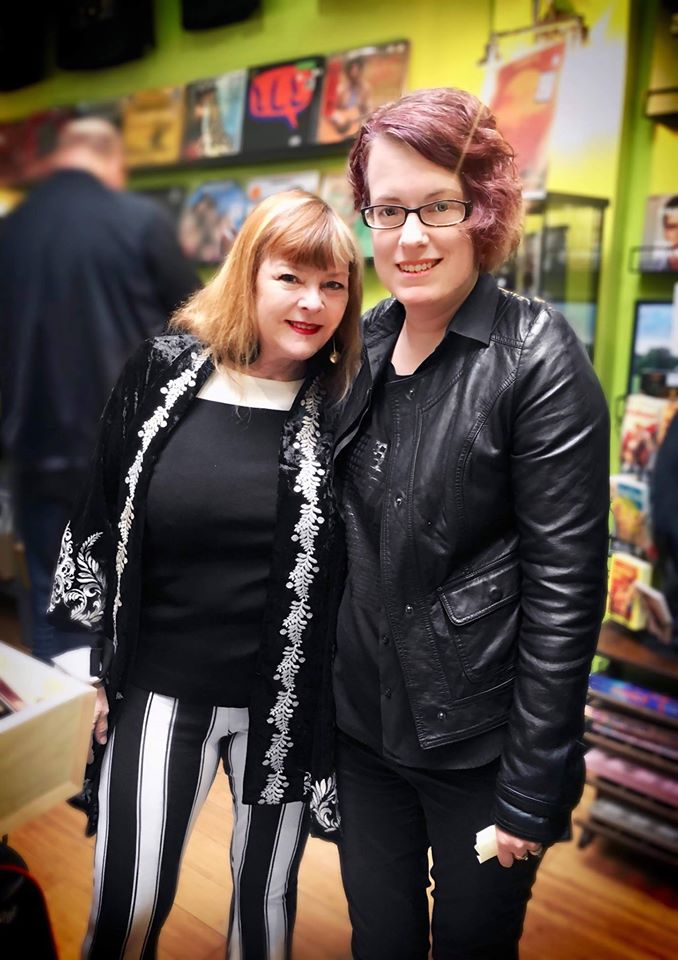 Hopes and Reflections
"I love the volunteer opportunities in writing and social media I've done thus far, and I want to keep doing more articles and social media postings. I am also interested in writing a series of feature stories where people talk about how music education has impacted their lives, perhaps individual tributes to a favorite music educator, past or present. As I have an interest in photography, I would like to do a photo series of some kind, provided COVID-19 abates eventually and we can meet in groups again someday. The sky is the limit and I always welcome new story ideas.
"I would like to thank Mark, Jean and Ed for welcoming me into the SOHF community as a volunteer. This opportunity has had a positive impact on my life, and I want to continue to tell the stores of other people's passion for Spirit of Harmony Foundation and for music education advocacy on behalf of the youngest among us."
About Sara
Sara lives in a small, rural town in Northeast Iowa (Cresco) with her husband Nate and their cat, Dibs. She currently works as a bookseller at Dragonfly Books, an independent bookstore in her nearby hometown of Decorah, Iowa. She also works as a freelance newspaper feature article writer and photographer. Prior to this, Sara worked at Cresco Public Library for 12 years. She graduated with a bachelor's degree in English from Luther College in Decorah, Iowa. While she did not study music, she worked as a public relations intern for the Saint Paul Chamber Orchestra in St. Paul, Minnesota during the summer of her sophomore year.
By Jean Lachowicz, Executive Director
Spirit of Harmony Foundation