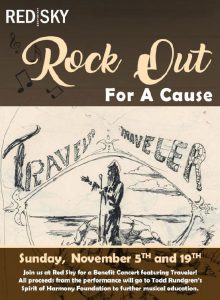 Traveler has been playing a series of free benefit performances in the Atlanta, Georgia area to support Music Education.
September 23 at the Brooke Street Park Bandstand – Alpharetta Georgia City Hall

November 5 and 19 at Red Sky Tapas & Bar in Marietta, Georgia

And future performances to be announced.
Traveler is a live performance sharing of classic rock and popular music primarily from the 1960s through the 1980s that is designed to entertain and inspire.  Not just nostalgic, but pertinent to our lives today in its message and its feeling.  Based on the idea that music at its core is inspirational and a medium that can bring us together in the shared experience of Love.