We just returned from Notre Dame and are working on a full report of the goings-on. Please check back soon! Thanks!
Exciting plans are being made for September/October when Todd visits the University of Notre Dame in South Bend, Indiana for more than a week of public and private events.
An underlying theme of the visit is "Play Like a Champion Today," Notre Dame's iconic athletics slogan, and how its meaning can be expanded to include the essential nature of Music Education. Spirit of Harmony has partnered with the non-profit Play Like A Champion educational initiative, which promotes character education through sports, for ten days of educational opportunities, community outreach, and public events.
To make a tax-deductible donation to support the work of the Spirit of Harmony Foundation:
---
TR@ND Highlights:
Many details are still in the planning stages, and many groups within the University community will be participating in various ways, but here are some highlights:
Football Game
Notre Dame Fighting Irish vs the Duke Blue Devils, Saturday, 9/24. One of the highlights of the week will be Todd's attendance at the game, where he will be the subject of a First Time Fans documentary that will highlight Music Education and the Spirit of Harmony Foundation. Todd is looking forward to the full campus experience of pre-game Pep Rally and tailgating. The game will be aired on NBC.
IMPORTANT LINKS!! Here is the link to the Brian Kelly Radio Show Thursday, September 22, 7:30-8:30 p.m. Eastern Time at http://watchnd.tv/#!/shows/Brian_Kelly_Radio_Show/2008122. We understand that the Friday pep rally will not be live streamed, but we will try to post Todd's performance through Facebook Live. The pep rally is Friday, September 23, 5:45-7 p.m. Eastern Time. Check on our FB page for our stream, or watch the ND video later in the evening at http://watchnd.tv.
USED MUSICAL INSTRUMENT DONATION COLLECTION: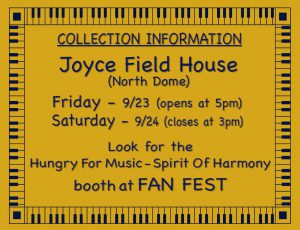 The Spirit of Harmony Foundation is planning an on-campus collection of used musical instruments by Hungry for Music, SOHF's new partner. Here is information from Hungry for Music about what they collect: "We accept music instrument donations in any condition. We usually do not accept upright pianos/organs. While we prefer instruments in playable condition, we do have luthiers who can repair instruments to give them new life. Instruments that have seen their last days are sent to Landfill Harmonic for parts/overhaul or given to artists to create musical instrument art. These are auctioned at an event called Musical Visions: Live Music & Art Auction."
COLLECTION TIMES AND LOCATIONS: Friday afternoon through Saturday. (Closes 3:00 pm Saturday prior to kickoff).  Look for the Hungry For Music/Spirit of Harmony booth at FanFest inside the North Dome of the Joyce Center.
Workshop for South Bend Area Elementary School Teachers
Wednesday, 9/28, 4-7 p.m. Engage Now + Kennedy Center Partners in Education Workshop, integrating music into curriculum. Jean and Ed to present with Sheela Das, Creative Concepts in Music.
South Bend Center for the Homeless
In cooperation with the University of Notre Dame and the Center for the Homeless, the Spirit of Harmony Foundation will be establishing a brand-new ongoing music program for the children of the families who are guests at the Center. A service project is being planned at the Center the afternoon of Saturday, October 1.
Music stands for the new program!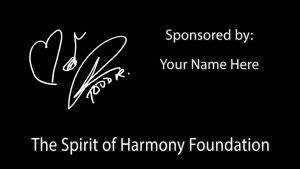 Thanks to the wonderful generosity of our supporters, 24 music stands were sponsored for the Center with a donor plaque inscribed with each name. Project completed! Thank you! TO MAKE A GENERAL DONATION to the Spirit of Harmony Foundation, and to see our variety of exciting thank-you gifts, please visit our DONATION PAGE.
The first shipment of music stands was already delivered to the Center, and the children were so excited! They immediately went to work to help assemble the new stands and of course had to ham it up a bit….The families at the Center for the Homeless, and especially the children who will be getting a music program, are looking forward to welcoming the Spirit of Harmony Foundation supporters on October 1.
Todd's Interdisciplinary Class