Exciting plans are being made for September/October when Todd visits the University of Notre Dame in South Bend, Indiana for more than a week of public and private events. An underlying theme of the visit is "Play Like a Champion Today," Notre Dame's iconic athletics slogan, and how its meaning can be expanded to include the essential nature of Music Education.
To listen to the Rundgren Radio show that features many details and anecdotes about TR@ND, please click here.
To make a tax-deductible donation to support the work of the Spirit of Harmony Foundation:
---
TR@ND Highlights:
Many details are still in the planning stages, and many groups within the University community will be participating in various ways, but here are some highlights:
Football Game
Notre Dame Fighting Irish vs the Duke Blue Devils, Saturday, 9/24. One of the highlights of the week will be Todd's attendance at the game, where he will be the subject of a First Time Fans documentary that will highlight Music Education and the Spirit of Harmony Foundation. Todd is looking forward to the full campus experience of pre-game Pep Rally and tailgating.
Also, we are planning an on-campus collection of used musical instruments by Hungry for Music, SOHF's new partner. Here is information from Hungry for Music about what they collect:
"We accept music instrument donations in any condition. We usually do not accept upright pianos/organs. While we prefer instruments in playable condition, we do have luthiers who can repair instruments to give them new life. Instruments that have seen their last days are sent to Landfill Harmonic for parts/overhaul or given to artists to create musical instrument art. These are auctioned at an event called Musical Visions: Live Music & Art Auction."
Workshop for South Bend Area Elementary School Teachers
Wednesday, 9/28, 4-7 p.m. Engage Now + Kennedy Center Partners in Education Workshop, integrating music into curriculum. Jean and Ed to present with Sheela Das, Creative Concepts in Music.
South Bend Center for the Homeless
In cooperation with the University of Notre Dame and the Center for the Homeless, the Spirit of Harmony Foundation will be establishing a brand-new ongoing music program for the children of the families who are guests at the Center. A service project is being planned at the Center the afternoon of Saturday, October 1.
Todd's Interdisciplinary Class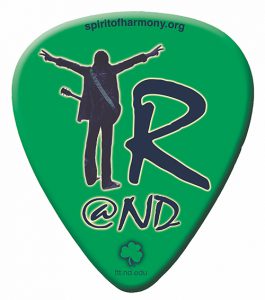 In addition to visits with various music and arts classrooms within the University during the course of the week, Todd will be teaching Exploring the Creative Muse: Art, Business, Technology, and Rock n' Roll, an elective course offered by the Department of Film, Television, and Theatre for Notre Dame students (Todd is still in the process of designing the class so content may change). Two of the class sessions are designed to be open to the public:
Monday, 9/26, evening, "The Science Behind Creativity: Why Music and Athletics Should Co-Exist in a Child's Education" a roundtable discussion with Todd Rundgren, Clark Power (Psychology), and others
Friday, 9/30, evening, "Todd Rundgren: Giving You the Business of Rock 'n Roll" From vinyl to digital, from The Nazz to Runddans, a conversation and Q&A about the business of music
Concert with ND Students
At the end of the residency, Todd will perform with students for a one-of-a-kind concert at the DeBartolo Center for Performing Arts on Saturday, October 1. Tickets will be available later this summer.
The concert with also feature the presentation of the Spirit of Harmony Foundation's annual Singring Award for Music Education.
For more information about this memorable week, please watch our website and Facebook posts. Also we will send out an eblast with details as the dates draw nearer. There will be a component for fans September 30-October 1–CLICK HERE FOR DETAILS.