Instrument Drives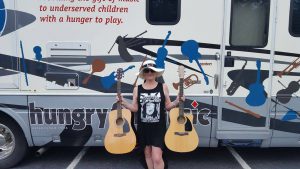 Supporters in more than 25 cities across the United States participated in our musical instrument collection since the Summer of 2017, and collected hundreds of instruments and audio gear to be reconditioned and redistributed to children in need by Hungry For Music and direct donations.
For a Facebook photo album, please click here.
Some highlights:
Julie Hill (pictured to the right) of Little Rock, Arkansas, coordinated collection points at local hospitals and music stores.
Veronica Morano of Sarasota, Florida, reached out to the local Sam Ash music store to be a collection point and donor.
Marilyn Baird of Downers Grove, Illinois organized an all-day collection point at a local YMCA.
More instrument collection superstars: Eileen Clark, Karen Giocondi, Kim Harvey, Sue Pope, Joel and Vicki Owens, 

Joann Pierdomenico and Vincent James, Drew Tamaki, Jim Utopia, John Powhida, Shelley Kiger, Gordon Myers, Sheela Das, John Siegler,

 

Brenda Twito, Lois Walker, Craig Daniels, Michael Rosen, Trace Tedrick, Dana Visgari, Patricia Angelucci Bruce, Julie Dye, Wayne Mesker, Susan Perin, Tom & Sue Davidson, Mark Miller, Rosemary Mizerak Byers, Bill Chapman, 

Mark Bagley.