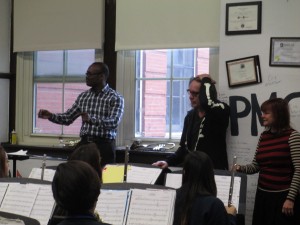 UIC College Prep: The Power of Transformative Leadership
Todd hangs out with UIC College Prep's music students and their esteemed music director, Mr. Steven Sanders.
Mr. Steven Sanders, the Fishman Prize-winning band director at UIC College Prep in Chicago, Illinois, has created a culture of music and personal growth in his high school band classes.  With an ardent dedication to enriching the lives of his students through music, Mr. Sanders has been able to create a sustainable music education program with an award-winning ensemble.
It is precisely this dedication to his students and the universality of his goal to bring high quality music education programming to his school that has fueled the continued success of the enterprise.  More importantly, it is this kind of transformative leadership that creates a space in the community in which music is at the core of, not simply tangential to, academic and developmental success.
---
Lane Tech College Prep: Reimagining Resources
A few years ago, the current music education room at Lane Technical College Prep High School was an unoccupied warehouse space.  But when the guitar teacher, Mr. Joe Sweet, and his colleagues got a hold of the space, they were able to transform the space into a place in which creativity thrives and students are able to utilize the latest musical technology.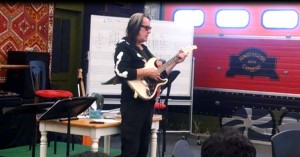 By working collaboratively with school administration, the local school council, community-based business owners, parents, and alumni, the leaders of the music department took a space that few could have imagined as anything other than a garage and created one of the preeminent music education programs in the city of Chicago.
The Music Department at Lane Tech College Prep offers top band, choir, and guitar programs, but also programs that are rarely seen in high school music curricula, like sound production.  Students have a unique opportunity not only to learn classical musical technique, but to create their own modern creative expression.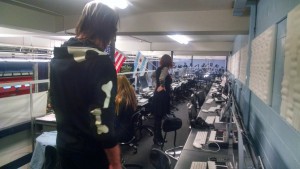 The ability of the educators in Lane Tech's Music Department to see opportunity in their space and move Lane's program forward into the 21st century serves as an example for all individuals looking to create music education programs in their school.  Armed with a vision, the dedication to collaboration, and dogged persistence in keeping the program at the cutting edge, the Music Department at Lane Tech continues to provide all students, regardless of musical ability, the opportunity to grow in music.