Spirit of Harmony presents Intoxicats!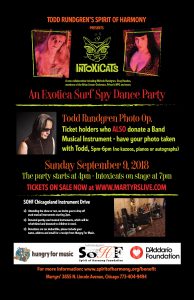 Performance of the INTOXICATS, Tiki/Rock Dance Party and Instrument Drive
Martyrs', 3855 N. Lincoln Avenue, Chicago, September 9.
The Spirit of Harmony proudly presents the first-ever public performance of INTOXICATS: Originating from Kauai, Hawaii, Intoxicats were born of a rum haze one steamy summer night at Tiki Iniki. Picture Gilligan's Island with access to MTV, Get Smart, Hawaii 5-0 and I Dream Of Jeannie re-runs, coupled with an unlimited bar tab… You get the picture.
Opening act: the accordion stylings of Chuck Wiggins.
Instrument Drive by Hungry for Music.
Videos:
Velvet Gorilla
Hammer In My Heart

More to come.
Photographs:
Media:
Intoxicats Currently In Good Membership Standing:
Michele Rundgren – (The Tubes, Todd Rundgren) – Vocals, Percussion.
Amy Meyer – (Cartwheel, Acetone Martinis) – Vocals, Drums, Percussion.
Rick Meyer – (Sam Iam, Bug, TV and Film Composer) – Vocals, Guitars, Bass, Keys, Drums, Perc.
Greg Hawkes – (The Cars, Todd Rundgren) – Vocals, Keys, Saxophone, Vibraphone
Noah Levy – (Brian Setzer Orchestra, BoDeans) – Drums, Percussion
Ryan Lance – (The Blenders) Vocals, Keys
Matthew Kirkwold – (AM Taxi, Throw The Fight, Quietdrive) Vocals, Guitars, Uke
Jeff Victor – (Andrew WK, Soul Asylum, Honeydogs) – Keyboards
Isaac Levy – Bass
The Hornheads:
Michael B Nelson – (Prince, NPG, Chaka Khan, Lenny Kravitz) Trombone, horn arrangements.
Kenni Holmen – (Prince, NPG, Tony Bennett, Celine Dion) – Saxophone, Flute, Woodwinds
Steve Strand – (Prince, NPG, Burt Bacharach, Tony Bennett) – Trumpet
Intoxicats Set List:
Hula Hula (Wiggle Wiggle)
Rapture
Moody Wahine
Girl U Want
Personal Jesus
Dare
Words
No One Knows
Give Me Back My Man
Tiki Oasis
Velvet Gorilla
Moving In Stereo
Hammer In My Heart
Jump Into The Fire
For Big Weekend 2018 merchandise, please click here.