Spirit of Harmony presents Intoxicats!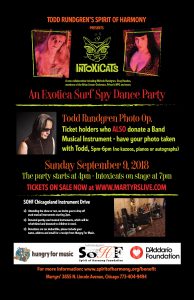 Performance of the INTOXICATS, Tiki/Rock Dance Party and Instrument Drive
Martyrs', 3855 N. Lincoln Avenue, Chicago, September 9.
The Spirit of Harmony proudly presents the first-ever public performance of INTOXICATS: Originating from Kauai, Hawaii, Intoxicats were born of a rum haze one steamy summer night at Tiki Iniki. Picture Gilligan's Island with access to MTV, Get Smart, Hawaii 5-0 and I Dream Of Jeannie re-runs, coupled with an unlimited bar tab… You get the picture.
Opening act: the accordion stylings of Chuck Wiggins.
Instrument Drive by Hungry for Music.
Videos:
Velvet Gorilla
Hammer In My Heart

More to come.
Photographs:
Media:
Intoxicats Currently In Good Membership Standing:
Michele Rundgren – (The Tubes, Todd Rundgren) – Vocals, Percussion.
Amy Meyer – (Cartwheel, Acetone Martinis) – Vocals, Drums, Percussion.
Rick Meyer – (Sam Iam, Bug, TV and Film Composer) – Vocals, Guitars, Bass, Keys, Drums, Perc.
Greg Hawkes – (The Cars, Todd Rundgren) – Vocals, Keys, Saxophone, Vibraphone
Noah Levy – (Brian Setzer Orchestra, BoDeans) – Drums, Percussion
Ryan Lance – (The Blenders) Vocals, Keys
Matthew Kirkwold – (AM Taxi, Throw The Fight, Quietdrive) Vocals, Guitars, Uke
Jeff Victor – (Andrew WK, Soul Asylum, Honeydogs) – Keyboards
Isaac Levy – Bass
The Hornheads:
Michael B Nelson – (Prince, NPG, Chaka Khan, Lenny Kravitz) Trombone, horn arrangements.
Kenni Holmen – (Prince, NPG, Tony Bennett, Celine Dion) – Saxophone, Flute, Woodwinds
Steve Strand – (Prince, NPG, Burt Bacharach, Tony Bennett) – Trumpet
Intoxicats Set List:
Hula Hula (Wiggle Wiggle)
Rapture
Moody Wahine
Girl U Want
Personal Jesus
Dare
Words
No One Knows
Give Me Back My Man
Tiki Oasis
Velvet Gorilla
Moving In Stereo
Hammer In My Heart
Jump Into The Fire