Introducing the new "HIT50" Limited Edition Mug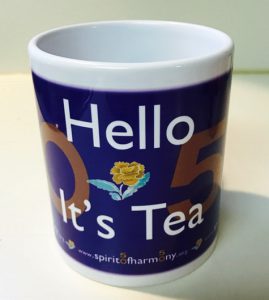 In celebration of the upcoming 50th anniversary of the original release of "Hello Its Me," the SOHF is pleased to present our new, very limited edition "HIT50" mug: the original "Hello Its Tea" mug re-imagined!
In honor of the golden anniversary of the iconic song, the mug's central flower, bilateral large background "50's" and facsimile Todd signature are now represented in golden tones. The bottom of each mug has been individually signed, dated and numbered by the designer, as a strict edition of 50 mugs worldwide. (As a special bonus, the first 25 orders will receive the "HIT50" keychain)!
Cost of each limited edition mug is $50.00, which will include domestic shipping and handling.
---
"Hello It's Tea" and "Think of Tea" Mugs …
I've thought about these mugs for a long, long time and they're finally here!
By popular demand following the worldwide success of the "HIT" mug, we're pleased to announce the release of the newly-designed "Think Of Tea" companion mug!
Against a vibrant purple background, the "Hello It's Tea" mug features a bright white "Hello It's Tea" logo surrounding a colorful flower (cultivated by those recognizing its brilliance), and finished by a SOHF web address bottom border. The "Think Of Tea" mug features the exact same vibrant purple, bright white and colorful flower image design elements, but in reverse. While the original mug referenced both title and first line of the iconic song, the "Think Of Tea" mug references the last line, bringing the concept full circle… and it looks amazing displayed next to the original "Hello It's Tea" mug! An absolute must-have when sharing tea for two (it takes two to tango)!
Designed specially to benefit the Spirit of Harmony Foundation, each colorful 11 oz. ceramic, machine washable mug is certain to inspire sweeter memories and leave you breathless!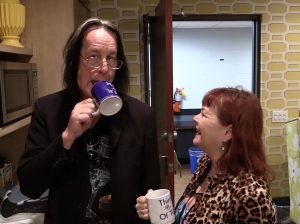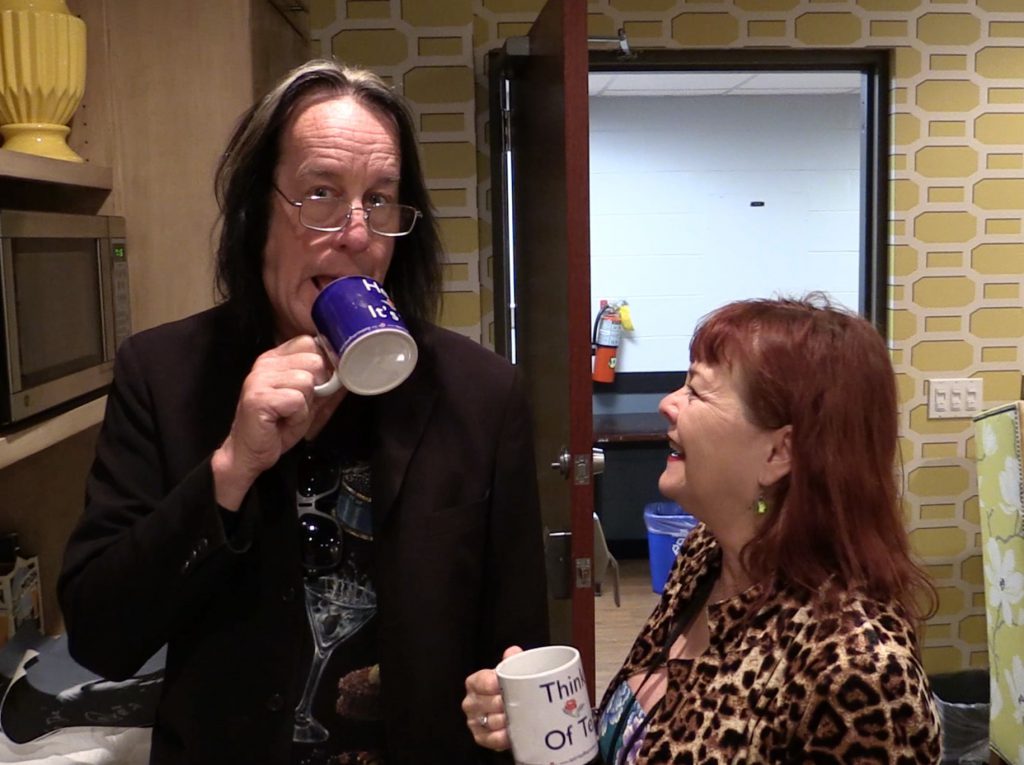 PRICING (please allow 2-3 weeks for delivery):
Domestic United States – $20 each (includes shipping and handling)
Canada – $28 each (includes shipping and handling)
Australia, Japan, and United Kingdom – $35 each (includes shipping and handling)
For other international locations, please send us an email before placing your order so we can calculate the postage and send you an invoice for the correct amount.
100% of the net proceeds will benefit the SOHF and their programs in support of music education… so don't think your purchase wouldn't have made any difference …it does!
After you've purchased a mug (and toasted the cold morning light with your fave hot beverage), we'd like to request you take a moment, go to the mirror, and snap a selfie of you with your mug…a mug shot! Post it online, then send it to jean@spiritofharmony.org. Be creative, imaginative, inventive…but most of all have fun! Mug shots are featured on our Mug Shot Gallery (below), so check often and discover your individual Mug Shot and Mug Shots of your friends!
Don't wait one more day…order your limited "Hello It's Tea" and "Think Of Tea" mugs, share your mug with the world, and become the saving grace for music education advocacy…
TO ORDER:
This individual fundraiser has been initiated and administrated by Mark Woodin, and is an example of how individual fundraising can develop…so get involved, we want to hear your ideas!
Mug Shot Gallery

Todd Rundgren


Mark Woodin


Bruce Whetstone


Jean & Jim Lachowicz


Lizzy Onionhead


RundgrenRadio Doug


Gail Artsgard Bilyard


Linda Dombrowski


Ed Vigdor


Kelly Davis...Maybe I shouldn't think of you as wine...


Debbie De Simone


Cathy Lee Brandstetter


Joe Griesler


Kathryn Sauers


Stephen J. Szostak


Denise McDonough


Julie Dye


Rosie and Sully St. Clair


Juanita Woodin


PJ Arellano


Sara Stromseth Troy


Rosemary Byers & Sydney


Patricia Moreno


Darlene Skaritka & Robert Avila


Marilyn Baird


Jenny Green


Ruth Ann Karch


Alice St. Clair


Sue White-Baisley


Suzan Zyne & Alice Zyne


"The Livesays"
(Victor Cuqui Berrios, Eddie Zyne, Billy Livesay & Jorge Laplume)


Jennifer Doubleday


Liz Weber


Ari Shagal


Pamela Leek


Kathryn Bard Swanson


Tammy & Tom Eighmy


The Unknown Botanist


Brian Meek


John Bean


Cathy Porrazzo Johnson‎


Kim Harvey


Beverley Rigby


Michael Brown


Kara Lowery


Anne-Marie


Carolyn Siddall


Tina Heffernan


TR Kimberly Kyle


Sierra Tree and Mo Love


Sheela Das and Family


Rebecca Segal


Buggsy Rock and Alice Derr

Susan Barry

"Rock Star" Todd


"Rock Star" Michele


Ed Vigdor


Ari and Conti Shagal


Brian Meeks


Bonnie Diver and Rocky


Phyllis Arellano


Anne Muller



Joan Burch


Kathy Woodyard


Corey from San Diego

---