Supporting the Moral Imperative of Music Education
Todd Rundgren's Spirit of Harmony advocates for the moral imperative of music education and music performance for youth, beginning at the earliest age possible, offered in schools or as after-school programs. We forge meaningful partnerships among music programs, corporations, and other music education non-profits, engaging supporters and music fans to become involved in working with music education programs nationally and in their communities.
The Foundation weaves together the social, biological, economic, and academic benefits accrued by students who are involved in consistent instrument-based music education. We believe in providing opportunities for personal development and self-expression through music, regardless of socioeconomic status, geographic location, or ability.
Working in harmony with our partners and stake holders, our goal is to develop and nurture strategic relationships that enhance the success of all.
"I never waited for something to happen—I just went out and did it. I didn't wait for acclaim or affirmation or anything like that. I always kept myself busy and wrote music. Some people think that success only comes through the front door, so they're waiting at that door. Truth is, sometimes it comes in the back door, so don't worry about it. Just keep busy and do what you're meant to do. If you do that, it'll all come together."
— Spirit of Harmony Foundation Founder and President Todd Rundgren in Guitar World, June 2015
---
Todd Rundgren Nominated to the Rock and Roll Hall of Fame, Class of 2019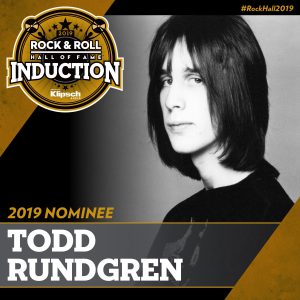 Spirit of Harmony Foundation President and Founder Todd Rundgren has been nominated to the Rock and Roll Hall of Fame, Class of 2019.
The RRHOF is offering fans the opportunity to officially participate in the induction selection process. Beginning October 9 and continuing through 11:59 p.m. EST on December 9, 2018, fans can visit rockhall.com to cast votes for who they believe to be most deserving of induction into the Rock & Roll Hall of Fame. The top five artists, as selected by the public, will comprise a "fans' ballot" that will be tallied along with the other ballots to choose the 2019 inductees.
Fans will need to login to vote. Voting is capped at one ballot per day.
RRHOF's bio page for Todd can be found at this link.
---
Special Fundraisers
Big Weekend for Music Education, September 7-9, 2018
For photos, set lists, videos, and merch, please click here.
The Magistris Project and the Toddstock Movie
Purchase separately, or buy both together Magistris and Toddstock. 
---
Stay in touch! Join our email list! 
---