IN THE SPOTLIGHT:
Featured Music Education Video:
Supporting the Moral Imperative of Music Education
The Spirit of Harmony Foundation supports the moral imperative of music education, weaving together the biological, social, academic, and economic benefits to young people who are involved in consistent instrument-based institutional music lessons and performance. Our organization focuses on networking, as we help match the practical and varied needs of music education programs with the resources that will help them excel.
We believe in providing opportunities for personal development and self-expression through the support of music and music education for young people regardless of socioeconomic status, geographic location, or ability.
"I never waited for something to happen—I just went out and did it. I didn't wait for acclaim or affirmation or anything like that. I always kept myself busy and wrote music. Some people think that success only comes through the front door, so they're waiting at that door. Truth is, sometimes it comes in the back door, so don't worry about it. Just keep busy and do what you're meant to do. If you do that, it'll all come together."– Spirit of Harmony Foundation Founder and President Todd Rundgren in Guitar World, June 2015
---
TOP NEWS:
Double Doctor Todd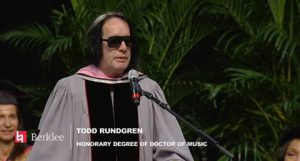 Congratulations to Todd Rundgren, our founder and president, on being awarded an honorary Doctor of Music by the Berklee School of Music in Boston, Massachusetts on May 13, 2017. In the commencement address, Todd encouraged graduates to be fearless in following their unique path.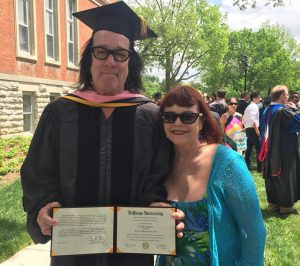 Todd was also awarded an honorary Doctorate by DePauw University in Greencastle, Indiana on May 21, 2017.
Join Todd's White Knight Round Table

+ ChivalRock Tour video clips and updates from the tour
+ Latest updates on Toddstock 2018
+ News on Todd's Spirit of Harmony Foundation
Even if you are already on our email list, go to http://tinyurl.com/n4zov8j, or  text TODD2017 to 22828 with your email address to add yourself to this special list.
Hello It's Tea and (NEW!!!) Think of Tea Mugs
Commemorative Gold Album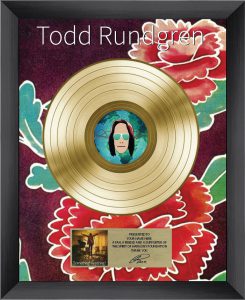 Todd Rundgren has commissioned a special limited edition of an authentic commemorative Gold Album award to help raise funds and awareness for his Spirit of Harmony Foundation. Please click here for details.
SOHF Merchandise!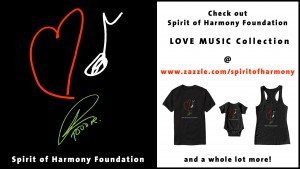 http://www.zazzle.com/spiritofharmony
---
"Music In A Word" Blog – Recent Posts
---

Stay in touch! Join our email list! 
---
Support and Sponsorship
Special Thanks and Partnership