The Spirit of Harmony has volunteers across the country who give generously of their time and resources to support Music Education Advocacy.
Supporter Spotlight: Dave Kinder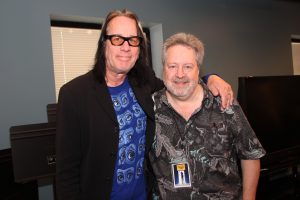 The Spirit of Harmony Foundation's inaugural Supporter Spotlight showcases Dave Kinder, who utilizes his over 50 years of expertise in printing to provide the foundation with promotional materials, business cards, and banners.
Those who attended Todd Rundgren's recent 'White Knight' tour had great fun taking selfie photos with life-size 'Sir Todd' stand-ups, courtesy of Dave. They helped raise awareness of the foundation and its mission by posting their selfies on the Spirit of Harmony Foundation's social media sites. They also texted to receive exclusive behind-the-scenes tour footage, and entered a prize drawing.
Dave shares the story of how he came to know the Spirit of Harmony Foundation, and how he uses his professional expertise and resources to benefit the foundation's promotional efforts:
I remember vividly the first time (Spirit of Harmony Foundation Board Chairman) Ed Vigdor called me to tell me about the new vision that Todd had for helping children to obtain and learn to play musical instruments. When Ed told me the name, The Spirit of Harmony Foundation, I immediately got the reference it made to a Utopia song from the 1970s, titled 'Singring and the Glass Guitar', one of my favorite compositions.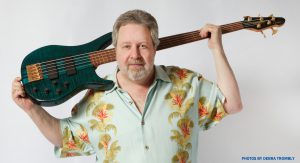 It was, I thought, a great metaphor for what they were intending to do, to free children from failing school band programs. I knew instantly that I wanted to be a part of this cause, not just because I liked the music of its founder, but also because I knew how important music was in the forming of my own character. Hence, a child getting his first instrument, especially if it can't come from school or family, is a precious gift indeed.
It all starts with, first, your desire to play an instrument. That can come at any age. More important is when you actually acquire an instrument. It can be like learning another language and helps to develop a child's character.
When I was asked to join other organizations in the past that I did printing for, my answer was always, 'Sorry, I don't have the time or inclination.' That is until I found out about The Spirit of Harmony. I knew instantly I wanted to be a part in it.
TO TODDSTOCK, OR NOT TO TODDSTOCK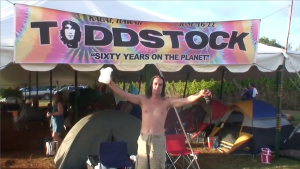 Ed and I met at the original Toddstock, along with roughly 300 other hard-core Todd Rundgren fans. That event, in 2008, celebrated Todd's 60th birthday and was held at his residence on the island of Kauai, Hawaii.
I called my good friend Bill Godby, who lived and worked on the big island Hawaii as an archaeologist, and when I presented him the idea of both of us going to Toddstock, he seemed just as excited as I was to do so. When Bill wasn't helping to protect native Hawaiian archaeological sites on one of the big islands' volcanoes, he also loved playing the guitar and listening to Todd's music. Presently, Bill presides over the 2 million acres known as White Sands Missile Range and is involved with the preservation of all of the ancient sites there.
So away Bill and I went, and soon we found ourselves making the journey to Todd's house, and what I found to be his version of 'Paradise.'
In my own way, I wanted to do something special for the event.  Michele (Rundgren) had told me there wasn't any kind of banner yet, so I thought that might be a nice birthday gift. I designed one measuring 3' by 15' across, and Michele liked the design and said it was a go.
When I got there it was already up in the air, and when I introduced myself to Michele the first day, she threw her arms around me while whispering in my ear, 'Your banner set the tone for the whole event'.  I was speechless and quite exhausted after a 12-hour trip. Attending Toddstock had a way of changing my life, much for the better, and brought me to a place where I could contribute to Todd's plan.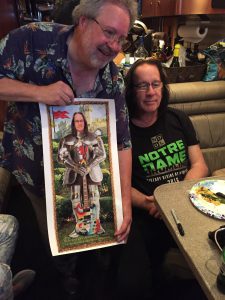 2017 SOHF RECAP
This year presented an amazing opportunity for me when the SOHF asked if I could help with raising  awareness by creating two life-size stand-ups for Todd Rundgren's White Knight: The Chivalrock Tour that featured 'Sir Todd' in a full suit of armor, and made to look like a 500-year-old painting.
They stood up in the lobbies of where Todd performed the White Knight Tour and fans would take their "selfies" with Sir Todd and send them to the Spirit of Harmony Foundation's social media sites. It was great fun and was a large part of my summer, both designing and producing.
I HAVE BEEN SELF-EMPLOYED AS A PRINTER/MUSICIAN FOR OVER 50 YEARS
At Toddstock, Ed learned that I owned and operated a commercial printing company in Burton, Michigan, near Flint, and we developed a friendship over the years that found us working on many different projects together, mostly Todd related.
When the SOHF needed things like business cards, flyers, banners, and whatever to promote Todd's vision, I was happy to provide such things.
To be giving back in some small way to SOHF is the most satisfying feeling I have ever had, besides finding my life partner and wife, Judy. She has found a way to understand this strange passion that I have, and supports me in all things.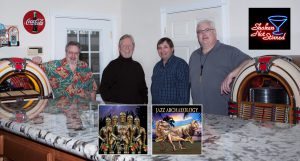 My life was influenced by what I consider to be three very important things: Learning to play an instrument, learning to read music, and turning it into a profession. I feel a deep affection for the Spirit of Harmony Foundation and what it represents:  A good deed. Thanks for that gift as well, SOHF: A year to remember.
A PROMISE OF SUPPORT TO A MOST WORTHY CAUSE
As long as I am so capable, and as long as they let me, I will cherish being a part of such a great organization as SOHF and I promise them to help in any way I can.
I feel like I have finally found a home for my own creativity and abilities; A Utopian City if you will. One day, I hope I get to meet them all. My door is always open. I tell people all of the time, 'It is a wonderful thing to be needed, and a greater privilege to be appreciated.' They give that feeling to me.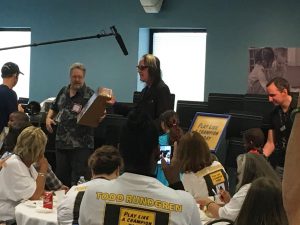 However, the most important thing about The Spirit of Harmony to me is that are trying to compensate for what used to come to children naturally, as part of the school systems, and has been taken away in most smaller school districts. The life lesson you learn while growing up and playing a musical instrument with friends has nearly vanished. For that cause, I will help in any way possible. I had more fun as a kid playing an instrument and although I have no children, in this way I kind of do.
I look forward to what the future holds for children and for the SOHF. If you know someone who is not using an old instrument, please recycle it and help us in this great cause.
– Edited by Sara Stromseth-Troy
---
Todd Rundgren's Utopia – Theater Information Tables
We are so very grateful to the BRAVE ADVENTURERS who have been staffing our information tables throughout the tour, spreading the word about the moral imperative of music education!
Penn's Peak show, Jim Thorpe, PA: Jim Utopia and Dave Cornelio.
Bergen PAC show, Englewood, NJ: Jim Utopia and Dave Cornelio.
House of Blues show, Houston, TX: Steve and Lisa Hartstein.
Majestic Theatre show, Dallas, TX: Steve and Lisa Hartstein.
Broward Performing Arts Center show, Broward, FL: Alan Meerow and Jay Bloomrosen.
Mahaffrey Theatre show, St. Petersburg, FL: Veronica Morano.
Tabernacle Theatre show, Atlanta, GA: Spirit of Harmony Board Chairman Ed Vigdor and Julie Teston Smith.
Carolina Theatre show, Durham, NC: Ed Vigdor and the legendary Dode Pricket.
Paramount Theatre show, Huntington, NY: Dave Cornelio.
Warner Theatre show, Washington, DC: Ed Vigdor and Mark Mo'Love Bagley.
Town Hall show, New York, NY: Dave Cornelio.
Tower Theatre show, Philadelphia, PA: Ed Vigdor and Kelly Port.
Orpheum Theater show, Boston, MA: John Heslin and Dave Cornelio.
Ridgefield Theatre show, Ridgefield, CT: Dave Cornelio.
Peabody Opera House show, St. Louis, MO: SOHF Board member Mark Woodin, with Ruth Ann Karch, and Debbie De Simone.
Taft Theater show, Cincinnati, OH: Deb and Chuck Wiggins.
Pabst Theater show, Milwaukee, WI: SOHF Executive Director Jean Lachowicz, Board Treasurer Jim Lachowicz, with Tom and Tammy Eighmy, Darlene Meinke, Ron Raasch.
State Theater show, Minneapolis, MN: JoLynne Counter and her delightful granddaughter.
20 Monroe Live show, Grand Rapids, MI: Digital Dave Kinder.
The Fillmore show, Detroit, MI: Digital Dave Kinder, with Jim Snyder and Michele Kotlarsky.
Hard Rock Live show, Cleveland, OH: SOHF Board Members Michael Baird and Joel Owens, with Vicki Owens.
Chicago Theatre show, Chicago, IL: Jean and Jim Lachowicz, SOHF Board Member Michael Baird, our Social Media team of  Sara Stromseth-Troy and Ari Shagal, and Phaedra Lynne Murray Chaney.
Paramount Theatre show, Denver, CO: Ed Vigdor, joined by Amy Roherer, Kathy and Brett Derwin.
The Joint at the Hard Rock show, Las Vegas, NV: Ed Vigdor, Board Member Mark Woodin, and Kathy and Brett Derwin.
Comerica Theatre show, Phoenix, AZ: Vigdor, Karen and Brett Darwin, and Daniel Blue and Mary DeCarlo.
The Wiltern Theatre show, Los Angeles, CA: Sandra Simpkins, Vicki Evjen, and Stephen Ross.
The Masonic Theatre show, San Francisco, CA: Kim Harvey and Lisa Neuson.
The Moore Theatre show, Seattle, WA: Teresa Shirley and Seattle Music Partners Executive Director Scott Gelband.
The Revolution Theatre show, Portland, OR: Teresa Shirley.
The Crest Theatre show, Sacramento, CA: Kim Harvey.
The Fox Performing Arts Center show, Riverside, CA: Chris Ryan and Stephen Ross.
---
Gordon Bundy – Traveler Concerts 2017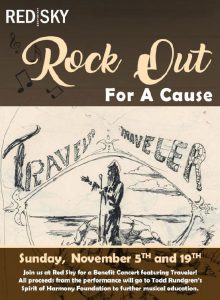 Traveler has been playing a series of free benefit performances in the Atlanta, Georgia area to support Music Education.
September 23 at the Brooke Street Park Bandstand – Alpharetta Georgia City Hall

November 5 and 19 at Red Sky Tapas & Bar in Marietta, Georgia

And future performances to be announced.
Traveler is a live performance sharing of classic rock and popular music primarily from the 1960s through the 1980s that is designed to entertain and inspire.  Not just nostalgic, but pertinent to our lives today in its message and its feeling.  Based on the idea that music at its core is inspirational and a medium that can bring us together in the shared experience of Love.
Instrument Drives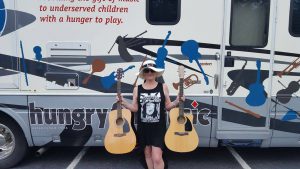 Supporters in more than 20 cities across the United States participated in our musical instrument collection in Summer 2017, and collected about 150 instruments and audio gear to be reconditioned and redistributed to children in need by Hungry For Music. For our Facebook photo album, please click here.
Some highlights:
Julie Hill (pictured to the right) of Little Rock, Arkansas, coordinated collection points at local hospitals and music stores.
Veronica Morano of Sarasota, Florida, reached out to the local Sam Ash music store to be a collection point and donor.
Marilyn Baird of Downers Grove, Illinois organized an all-day collection point at a local YMCA.
More instrument collection superstars: Eileen Clark, Karen Giocondi, Kim Harvey, Sue Pope, Joel and Vicki Owens, 

Joann Pierdomenico and Vincent James, Drew Tamaki, Jim Utopia, John Powhida, Shelley Kiger, Gordon Myers, Sheela Das, John Siegler,

 

Brenda Twito, Lois Walker, Craig Daniels, Michael Rosen, Trace Tedrick, Dana Visgari, Patricia Angelucci Bruce, Julie Dye, Wayne Mesker, Susan Perin, Tom & Sue Davidson, Mark Miller, Rosemary Mizerak Byers, Bill Chapman, 

Mark Bagley.
---
Joel and Vicki Owens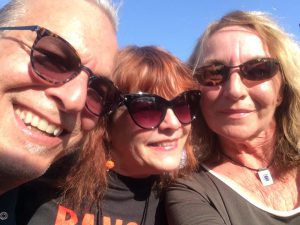 Vicki and Joel were instrumental in two QS&L Bangin' Drums events: On August 20, Todd and Michele Rundgren made a public appearance in support of the "Bangin' Drums 4 Music Education" promotion for the Spirit of Harmony Foundation in the parking lot at the Nautica Pavilion in downtown Cleveland before the YESTIVAL show. Music students from Campus International School in Cleveland performed and Hungry for Music's Big Bertha was also on hand to accept instrument donations. Also, on September 16, Vicki and Joel coordinated an event at the Quaker Steak in North Canton, Ohio. Along with great fellowship among local supporters, the afternoon featured Canton's En-rich-mentmusic program. En-Rich-Ment provides free private and group lessons to underserved urban youth ages 9 – 24. Groups participate in worthy cause parades and marathons as well as prepare for competitions. The academy teaches youth the value of teamwork and prepares them for business opportunities.
National restaurant chain Quaker Steak & Lube supported the Spirit of Harmony Foundation with its Bangin' Drums 4 Music Education promotion. SOHF supporters who live near a Quaker Steak restaurant organized meet-ups to highlight the importance of music education and shine a spotlight on Music Education programs in their communities.
Other Bangin' Drums 4 Music Education Volunteers
September 24 Quaker Steak in New Berlin, Wisconsin, coordinated by Ron Raasch. This meet-up took place in conjunction with a Green Bay Packers homegame vs. the Bengals. The Packers famously play Bang the Drum All Day after every touchdown at Lambeau Field, so it was a perfect tie-in to Bangin' Drums 4 Music Education. And the Packers did not disappoint!
September 28 Quaker Steak in Bloomsburg, Pennsylvania, coordinated by Buggsy Rock. At this very musical evening meet-up, Buggsy Rock and Friends performed live in support of music education. Zen Again, a Led Zeppelin tribute band, also performed, as well as Jonah Whale, Jack Pyers, Rob Brown, and other local musicians. What an amazing evening of wonderful talent!
October 1 Quaker Steak in Valley View, Ohio, coordinated by Wayne Mesker. A musical and sunny Sunday afternoon, featuring The Angels In Disguise & The Stone Cold Killers (Straight Outta Parma). The Valley View Quaker Steak graciously extended the Bangin' Drums 4 Music Education promotion to accommodate the October 1 date. "Dine 2 Donate" fundraising was done for our Spirit of Harmony Partner, Hungry For Music.
October 8 Quaker Steak in Westminster, Colorado, coordinated by Ed Vigdor. The restaurant generously offered to extend the September 30 end of the Bangin' Drums promotion to accommodate an October event, which will be in support of the Colorado Honor Band Association (CHBA). Colorado Honor Band Association provides high quality music education for students in the greater Denver-metropolitan area. This extra-curricular program fills a unique niche in the community with an education model that blends full-ensemble instruction, small-group training, and one-on-one coaching.