"The Individualist" Autobiography and 2019 Tour
International tour information, please click here.
Official Cleopatra Records news release. Book and 2019 tour information.
Please click here for Review by Chris Epting.
And please click here to order on Amazon.
---
Todd Nominated to Rock and Roll Hall of Fame, Class of 2019
Please click here for official news release: 2019 Nominees Release
---
Todd Rundgren's Utopia Reunion 2018
For 32 years, fans have been clamoring for a reunion. The wait is over. 
No longer able to turn a deaf ear to the unceasing requests from fans and the media alike, Todd Rundgren, Kasim Sulton, Willie Wilcox ("Utopia") and Ralph Schuckett ("Todd Rundgren's Utopia") reunited for their first North American tour since the Chernobyl nuclear reactor exploded. Presented by SiriusXM and produced by Live Nation, TODD RUNDGREN'S UTOPIA performed across North America beginning on April 18. For full news release, please click here.
---
Todd's Two Honorary Doctorates
Congratulations to Todd Rundgren, our founder and president, on being awarded an Honorary Doctor of Music by the Berklee School of Music in Boston, Massachusetts on May 13, 2017.
In his commencement address, Rundgren—a songwriter, producer, recording artist and multimedia pioneer—encouraged the graduates to keep on learning. "When I got out of high school, I learned to learn. Ever since then, I have absorbed anything that has been put in front of me that is of interest. I've learned not only how to expand the range of my musical expression, but I've also learned things like computer programming and video production and other things, which any of you could easily absorb if you don't leave here thinking that your education is finished. Today, this appears to be the end of something, but it's really the beginning of something for you."
He added, "The most important thing you can take advantage of in the world of music is to see yourself. I eventually got to the point where music meant self-exploration [to me] more than anything else. I encourage everyone here to be brave and fearless in that respect."
For a Facebook photo album of the Berklee Commencement, please click here.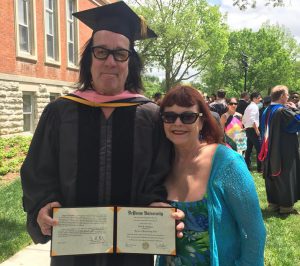 Todd was also awarded an Honorary Doctorate of Performing Arts by DePauw University in Greencastle, Indiana on May 21, 2017.
In its coverage of Sunday's 168th Commencement at DePauw University, the local newspaper Banner-Graphic noted that in "what was expected to be one of the highlight moments of the graduation ceremony, rock music legend Todd Rundgren didn't bang a drum for a second, let alone all day, nor did he speak a word from the commencement stage." Eric Bernsee reports that "in a confusing turn of events, just as Rundgren was bestowed with the traditional honorary degree hood as a Doctor of Performing Arts, the DePauw University Band struck up a rendition of Rundgren's 'All the Children Sing'."
Ken Owen '82, executive director of media relations at DePauw, told the newspaper, "(University Band Director) Craig Pare had a student who wanted to do a version of one of Rundgren's songs and play it as a surprise, which they clearly did. I think the music playing threw him (Rundgren) off and he just went back to his seat and probably thought he wasn't supposed to speak."
Bernsee notes, "Before taking Rundgren and his wife to the Indianapolis Airport later Sunday to catch their flight home, Owen and the rock star sat down for a short explanation video. In it, Owen begins by shouldering the blame, saying, 'Because I forgot to warn him we were going to play music during the ceremony, things got out of whack.' He then asked Rundgren what he would have told the DePauw Class of 2017 had he spoken."
The story continues, "Rundgren praised 'the lineage of a school like DePauw,' adding that it has traditions that alumni parents and grandparents have passed along to current students."
For a Facebook photo album of the DePauw Commencement, please click here.
---
White Knight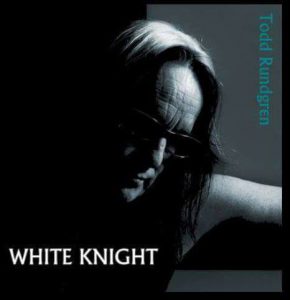 Todd's latest album is a star-studded affair featuring appearances by genre- and generation-spanning artists, including Donald Fagen, Daryl Hall, Trent Reznor, Joe Satriani and Joe Walsh.
White Knight features all new songs written by Rundgren and the album's guest performers. The 15 tracks span moody pop and hip-hop to synth-powered rock and lush R&B. Here's an MTV review.
Released May 12, 2017 by Cleopatra Records.