Michael Morrison, Artist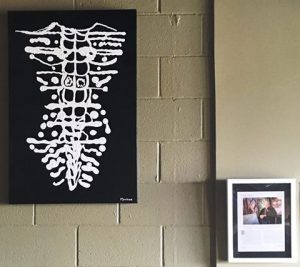 Artist and Todd fan Michael Todd Morrison has taken on an incredible project: He is creating a painting for each and every one of Todd's songs. He has named this collection the Spirit of Harmony Series, and all proceeds from artwork in this series are contributed to the Foundation.
For 37 years Raleigh-based artist Morrison has been creating acrylic works on canvas, gesso board, and other surfaces focused on landscapes and abstracts using bright colors as well as photographic works that depict his passion for travel, sustainability, the environment, horticulture, and philanthropy.  He won first place in the USDA's Art and Agriculture competition the past three years and his art was selected for 100 Raleigh-area buses as part of the Art on the Move contest.
Michael has been showing his paintings in galleries and exhibitions around the country, including the USDA Gallery in Washington, DC, Art Basel in Miami, and ArtPrize at Harmony Hall in Grand Rapids, MI, spreading the word about Music Education Advocacy.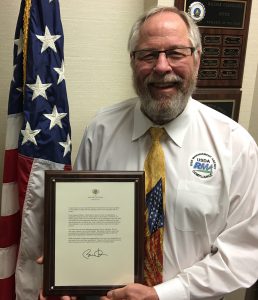 On December 7, 2016, Michael was bestowed the Abraham Lincoln Honor Award: President's Volunteer Service Award from President Barack Obama.
His volunteer service exceeded 500 hours last year which included his volunteer efforts for several non profit foundations which included Clayton Visual Arts, Spirit of Harmony Foundation, Hearts of Color, Cancer Foundations, the USDA food drive, and many others.
---
Roots of American Music and Photography Fundraiser in Akron
Rundgren Radio presented a special weekend in Akron, Ohio over Labor Day, featuring two Akron Symphony Orchestra shows at the Akron Civic Theater and a "lunchtime" Kasim Sulton concert on Sunday, September 6. The Spirit of Harmony Foundation presented a short pre-show appearance by one of the Foundation's partner organizations, Roots of American Music (ROAM), who demonstrated the programs they offer in Cleveland/Akron area schools, incorporating music with academic subjects (history, science, etc.) with an interactive mini-workshop.
The Foundation exhibited historic Todd concertwear at the Friday night Rundgren Radio Birthday Bash, and several Todd photographers, coordinated by Jim Snyder, made professional quality prints of some of their favorite photos and donating the proceeds to the Foundation.
---
88+ Ways Music Can Change Your Life
Authors Vincent James and Joann Pierdomenico have designated the Spirit of Harmony Foundation as one of the beneficiaries for the proceeds from the sale of this wonderful book.
88+ Ways is filled with over 150 inspirational stories & quotes from musicians, music educators and music lovers from all over the world. Included are a number of stories from Grammy winning and Platinum selling artists & composers. Recording artist and songwriting contributors include Bobby Kimball (Toto), Simon Kirke (Bad Company), Vanessa Carlton, Siedah Garrett (Michael Jackson), Rick Wakeman (Yes), Rob Parissi (Wild Cherry/Play That Funky Music), Rob Hyman & Eric Bazilian (The Hooters), Billy Steinberg (Madonna), Bill Champlin (Chicago), Mark King (Level 42), Bobby Hart (Monkees), Ciaran Gribbin (INXS), Rose Kingsley (Metropolitan Opera Singer & Ballerina) & Grammy winning Children's artist The Battersby Duo. Film and TV actresses contributing stories include Audrey Landers (Dallas), and Darcy Donavan (Anchorman, My Name is Earl). TV/Film/DVD producers & composers contributing include Fred Mollin (Friday the 13th, Hard Copy, Beyond Reality), Michel Rubini (Nemisis, The Hitchhiker, Tales from the Crypt), Jay Gruska (Cocoon-Movie, Supernatural-TV, Charmed-TV), Sara Flatow (Grey's Anatomy, Desperate Housewives, Scandal) 50% of the proceeds from all book & ebook sales will be donated to foundations providing music instruments and lessons to schools and communities in need.
---
Drummer Showcase
Drummer Johnny Byrne hosted a Drummer Showcase on February 8, 2015 and chose the Spirit of Harmony Foundation as beneficiary. It was a fabulous event at the Yost Theater in Santa Ana, California.
Bruno Project-Freeway Jam v2a from K F Enterprises on Vimeo.
---
Magistris Project
"When an alien intelligence engages the emotions of the Earth's populace, an unintentionally positive aftermath ensues." Based on a dream experienced by Mark Woodin and illustrated by Bill Bricker, The Magistris project has developed into a concept to raise funds for the Spirit of Harmony Foundation.
Already a published book, the project continues to evolve, with projections for a cd featuring music by artists inspired by the book, a line of clothing and much more. Further information concerning the Magistris Project can be found at themagistris@yahoo.com or join us at our Facebook page: The Magistris.
A portion of all proceeds from Magistris project merchandise purchased benefits the Spirit of Harmony Foundation. A reading of Magistris was featured at the Spirit of Harmony Theme day at the Mythic Pacific Retreat in Cambria, California in August. Mark presented the book and its illustrations with a dramatic narration by Ruth Ann Karch and enlargements of the artwork.
---
Making Memories Through Music
In partnership with Walter Payton College Prep High School in Chicago, the Spirit of Harmony Foundation collected 25 new and used iPods/MP3 players for the "Making Memories through Music" project.
A student advisory group at Walter Payton began a multi-year, ongoing project with Warren Barr Pavilion (senior citizen home) to craft relationships with resident patients who are suffering from dementia or Alzheimer's. The students have visited the facility several times and begun to create those relationships.
Thanks to Cathy Lee Brandstetter and Kurt Boehlein, the devices were loaded with a thoughtful selection of musical pieces, with plenty of room for students to add more music to suit the particular taste and interests of the seniors. The students will share the donated players and music with the hope that this medium will stir memories and/or conversation. Through the use of "splitters" both the student and the resident can be listening to the music "together", hopefully spawning some collaboration.
This project is the students' idea, but the benefits of music for dementia and Alzheimer's patients is well documented. For inspiration and information, please watch the trailer for "Alive Inside"www.aliveinside.us an award-winning film documentary that chronicles the astonishing experiences of individuals who have been revitalized through the simple experience of listening to music.
Donated devices and monetary donations from across the U.S. during the September-October collection period exceeded our goal of 25 devices, 25 splitters, and 50 sets of earbuds. Very special thanks to Rock Against Dementia, the band Mother Fungus, and the Local Tavern (Cleveland area locations) for having a fundraising event to cover the cost of many brand-new iPods that allowed us to exceed our goal. (The Local Tavern will be drop off points for mp3 players and headphones/earbuds for future use in Dan Cohen's Music & Memory program.)
The students were very excited to work with the Spirit of Harmony Foundation on this project and we've brought smiles to many faces! For more photos, please click here.
---
Sasquatch Glass
We walked the red carpet to benefit Todd Rundgren's Spirit of Harmony Foundation and Seattle Music Partners. Sasquatch Glass hosted its annual Fall Fling Party with live music, fine and acrobatic art on display, great food & drink, and a Silent Auction.
Sasquatch Glass' CEO, Scott Hunter became aware of the Foundation the recent rock retreat with Rundgren in Cambria, California, among others and came back inspired to help.
"I was not a musician but the music programs in school gave my expressive friends who explored this fine art access to Todd Rundgren, with whom I have had an almost 40-year musical love affair." He recalls fondly his first introduction to the famed rocker. "That might not have happened had there not been great music programs in school and extra-curricular options available."
---
Cuts for Kids
Cuts for Kids is a fundraising effort devised by Laura Dems and her Vanity Ave Salon in Broadview Heights, OH, that has benefited several worthy charities over the years. Being a long time Todd fan, Laura chose the Spirit of Harmony as the event's benefactor this year. The core premise of Cuts for Kids is to provide free haircuts for children under 12, while raising money through raffles, games and direct donations.
Laura and her staff, along with a cadre of local TR fans, put together a tremendous event. Laura received numerous donations of gift baskets from her suppliers, and others in the community donated music memorabilia and other items. Daryl Hall, through "Live At Daryl's House", donated autographed CDs, DVDs, photographs and t-shirts. The Spirit of Harmony Foundation made arrangements to have a custom Fender guitar produced with the artwork from Todd's "A Wizard A True Star" album, to be raffled off. Other businesses in the community joined the effort, a party event supplier donated a 200 person tent that was set up outside the salon.
The day was filled with live music and performances, including local bands, a dance troupe and even a magician. Roots of American Music a local music education program that also benefited from the event, participated with musical performances. With the tent and salon decorated with balloons, a very festive atmosphere was created. We thank Laura, her staff and all the fans that worked so hard for their "Utopian" effort.
Laura and the Foundation hope to expand and replicate this event in other cities across the nation next year, eventually creating a national "Cuts For Kids Day" bringing together the essential elements: kids, their parents, music, and those who believe that music education is key to helping kids succeed in their lives.
For more photos, please click here. For full interview with Todd on the Jeff Kinzbach Morning Show WONE-FM, Click here. For short promotional piece by Todd, Click here.
---
Silent Soundtrack
At the Spirit of Harmony Theme Day during the Mythic Pacific Retreat in Cambria, California in August 2014, we were honored to host the premier of Jeffrey DiCera's album "Silent Soundtrack."
A cast of fans accompanied Jeffrey in the dramatic presentation of a selection of songs from the album. Jeffrey wrote Silent Soundtrack in response to his personal journey surrounding the destruction of his beloved high school music program.
Jeffrey writes: "So, what is Silent Soundtrack about? It's about sharing something new, helpful, and outright good with the community; with the world; in a cloud of all these trending and juice-provoking stories that lead you to think sadly or angrily about life, and society. The catch is you may never see it, because it will always get buried in the news feed. See? That's what makes it a Silent Soundtrack. What's funny is that wasn't my idea. I heard the words, "Silent Soundtrack," in my head in the shower one morning and thought it sounded kind of cool, so I kept it in memory for the next project that came along. So, as some of the words depict, it's about a hidden agenda that you or I didn't write, so there's nothing to fear. I'm not here to glorify. I'm not here to show off talent or to be better than anybody. I'm just here, doing what I do, and so is "Silent Soundtrack." I was pretty quiet in school, and now I'm kept silent when it matters the most. The album, however, is released everywhere online, and its sales support the unsung heroes in the story who were also kept silent. So, we could either stay silent, or watch the music of silence try to help out a Noisy World." For more photos, please click here.
---
Also…
KC Music: Mark Ballard, a local KC musician and Todd fan, learned of the Spirit of Harmony when he received a promo card at an "Unpredictable" show in the spring of 2014. He is a music educator, having recently sold his "School of Rock" franchise, and deciding to open a music retail store in northern Kansas City. He reached out to the Spirit of Harmony, wanting the celebration of his store Grand Opening to also be a fundraiser on October 4. Several locals bands performed and various donated pieces of musical gear were auctioned off. We appreciated Mark's effort and wish him success with his new venture. KC Music Grand Opening event, October 4, 2014. Slacker Morning Show, Kansas City Classic Rock 101 The Fox. Click here.
Michael Morrison is an award-winning artist who has designated the Spirit of Harmony Foundation as the beneficiary of his charitable efforts. There are 42 paintings in his "Spirit of Harmony" series of artwork inspired by Todd's music and the Foundation's mission. Michael has ongoing gallery space at a shopping mall in North Carolina and occasional other events where he displays his artwork, with the proceeds going to the Spirit of Harmony Foundation. He has also donated many painting reproductions to the Foundation for use in silent auctions and raffles.
The Pro Series Guided Practice System is an interactive DVD music lesson program, designed for intermediate-level students. Pro Series is built on the powerful fundamentals professional musicians have been using for decades, with lessons that play in a standard DVD player and the included Companion Book…. Five Director's Edition packages were donated to Spirit of Harmony Foundation, and we have been able to allocate those packages to programs with students studying brass and woodwind instruments who want to hone their skills on their own, to complement their formal lessons and rehearsals. We will track the effectiveness and usage of the Pro Series Guided Practice System to the programs we gave them to, and will give valuable feedback to the system creators.
---
Are you interested in organizing an event to raise funds for the Foundation? (please click here)