Todd Rundgren and the Chicago Sinfonietta at the Chicago House of Blues, September 8.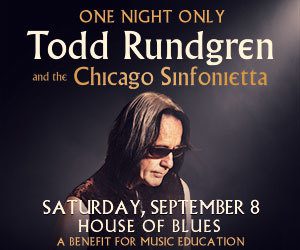 Orchestral arrangements of music spanning Todd's 50-year career included hits, rarities, fan favorites, and some surprises. Rich Daniels of City Lights Orchestra as guest conductor.
In addition to the Sinfonietta, Todd performed with his touring band, featuring Jesse Gress (Tony Levin Band, Mahavishnu Project), Kasim Sulton (Utopia, Meatloaf, Joan Jett, Blue Oyster Cult), Prairie Prince (The Tubes, Jefferson Starship), and Greg Hawkes (The Cars).
Videos:
To come
Photographs:
Set List:
Todd and the Band:
Real Man
Love of the Common Man
Wouldn't Have Made Any Difference
Buffalo Grass
Love In Action
Cliche
Lets Do This
Black And White
Born To Synthesize (Richard and Kyle Shallbetter)
Can We Still Be Friends
One World
With the Chicago Sinfonietta, Rich Daniels, Guest Conductor:
Intitiation – orchestral arrangement by the Shallbetter Brothers
Another Life
We Gotta Get You a Woman
Bag Lady
I Saw the Light
Property
Wailing Wall
Grogs
Mammom/Fascist Christ
Parallel Lines
The Smell of Money
If I Have to be Alone
God Said
Second Wind
Hello It's Me
Fade Away